In an era where culinary technology continues to evolve, air fryers have garnered the attention of home cooks and food enthusiasts alike. These appliances are designed to transform how we prepare our dishes utilizing hot air circulation. This also helps reduce oil use while frying food.
In this segment, Ninja has emerged as a prominent name. The brand has earned a notable reputation as a front-runner in innovative kitchen appliances, offering a diverse range of products that blend cutting-edge technology with culinary expertise.
From air fryers to blenders, coffee makers to multi-cookers, the Ninja brand has garnered praise for its dedication to versatile functionality. Whether it's the precision of their blending systems, the convenience of multi-cooker capabilities, or the healthier cooking options presented by air fryers, Ninja has successfully carved out a space as a brand that adapts to diverse culinary needs.
This article will help explore the top 12 best Ninja air fryers we tested. Whether you're seeking a versatile multi-cooking machine or a compact solution tailored to your needs, our ideas will assist you in navigating the choices and uncovering the top contenders in the realm of air fryers. Let's delve into our reviews.
Are Ninja Air Fryers Good?
Yes, Ninja air fryers are generally considered good appliances for cooking a wide variety of foods. They have gained popularity for several reasons:
Innovative features: Some Ninja products include dual cooking zones, smart cooking programs, and compatibility with the brand's larger kitchen appliance ecosystem.
Multi-Functionality: Their items have multiple cooking functions, allowing you to air fry, roast, bake, reheat, and more. Some models even offer additional features like dehydrating or grilling, making them versatile additions to your kitchen.
Compatibility with Ninja Ecosystem: If you already own other Ninja kitchen appliances, some air fryer models are designed to integrate with the broader Ninja ecosystem, letting you create a cohesive cooking setup.
Thanks to its diversity, whether you need versatility, ease of use, or advanced cooking technology, the Ninja brand can have an item to meet your needs.
Top 12 Best Ninja Air Fryers Reviewed by Our Experts
Image

Product

Features

Price

Our Pick

1

Ninja SP351 Foodi Smart

13-in-1 Dual Heat Air Fry Countertop Oven, Dehydrate, Reheat, Smart Thermometer, 1800-watts, Silver

2

Ninja DCT451

12-in-1 Smart Double Oven with FlexDoor, Thermometer, FlavorSeal, Smart Finish, Rapid Top Convection and Air Fry Bottom , Stainless Steel

3

Ninja SP301 Dual Heat Air Fry Countertop

13-in-1 Oven with Extended Height, XL Capacity, Flip Up & Away Capability for Storage Space, with Air Fry Basket, SearPlate, Wire Rack & Crumb Tray, Silver

4

Ninja OL701 Foodi

14-in-1 SMART XL 8 Qt. Pressure Cooker Steam Fryer with SmartLid & Thermometer + Auto-Steam Release, that Air Fries, Proofs & More, 3-Layer Capacity, 5 Qt. Crisp Basket, Silver/Black

5

Ninja SF301 Speedi Rapid Cooker & Air Fryer

6-Quart Capacity, 12-in-1 Functions to Steam, Bake, Roast, Sear, Sauté, Slow Cook, Sous Vide & More, 15-Minute Speedi Meals All In One Pot, Sea Salt Gray

6

Ninja FD401 Foodi

12-in-1 Deluxe XL 8 qt. Pressure Cooker & Air Fryer that Steams, Slow Cooks, Sears, Sautés, Dehydrates & More, with 5 qt. Crisper Basket, Deluxe Reversible Rack & Recipe Book, Silver

7

Ninja DZ550 Foodi

10 Quart 6-in-1 DualZone Smart XL Air Fryer with 2 Independent Baskets, Smart Cook Thermometer for Perfect Doneness, Match Cook & Smart Finish to Roast, Dehydrate & More, Grey

8

Ninja IG651 Foodi Smart XL Pro

7-in-1 Indoor Grill/Griddle Combo, use Opened or Closed, Air Fry, Dehydrate & More, Pro Power Grate, Flat Top, Crisper, Smart Thermometer, Black

9

Ninja DG551 Foodi Smart XL

6-in-1 Indoor Grill with Air Fry, Roast, Bake, Broil, & Dehydrate, Foodi Smart Thermometer, 2nd Generation, Black/Silver

10

Ninja AG301 Foodi

5-in-1 Indoor Grill with Air Fry, Roast, Bake & Dehydrate, Black/Silver

11

Ninja OG701 Woodfire Outdoor Grill & Smoker

7-in-1 Master Grill, BBQ Smoker, & Air Fryer plus Bake, Roast, Dehydrate, & Broil, uses Ninja Woodfire Pellets, Weather-Resistant, Portable, Electric

12

Ninja AF101 Air Fryer

Crisps, Roasts, Reheats, & Dehydrates, for Quick, Easy Meals, 4 Quart Capacity, & High Gloss Finish, Grey
Ninja SP351 – Best Overall
Key Specifications:
Dimension: 15.33″ x 20.21″ x 8.15″
Weight: 21.5 lbs
Wattage: 1800 W
Capacity: 4 lbs
Dishwasher safe: Yes
Control method: Touch
Ninja SP351 is a new model of the brand of air fryers in 2023. Why can we say this is the best Ninja foodi air fryer? It's because this product can balance all the impressive features.
First, this model has 13 cooking modes: air frying, pressure cooking, slow cooking, roasting, baking, broiling, grilling, sautéing, steaming, dehydrating, and more. This versatility allows you to prepare various dishes using a single appliance.
Although the capacity is insignificant, its output wattage is 1800W, which means SP351 can heat and cook food quickly. It can effectively decrease your cooking time. The "Smart" designation could imply advanced technology such as built-in sensors, automatic cooking programs, and adaptive temperature control for precise and consistent results.
This is a more space-saving option than others with the same features and wattage. Removable and dishwasher-safe components make clean-up after cooking a breeze.
Ease of use with pre-programmed settings and smart technology
A 13-in-1 model suggests a wide range of cooking functions
Time savings with high wattage and dual heat technology
Some features may not be necessary for home cooks
Advanced settings require spending time with trial and error to get the best results.
Related article: Ninja SP351 vs SP301 Comparison
Ninja DCT451 – Best Double Design
Key Specifications:
Dimension: 21.5″ x 16.39″ x 13.26″
Weight: 31 lbs
Wattage:
Capacity: 12 liters
Control method: Knob
The "Double Oven" aspect might indicate that this appliance has two separate cooking chambers, which could be used simultaneously to cook different dishes at different temperatures or to accommodate larger quantities of food.
With a double oven design, you could use one compartment for baking tasks, such as cookies, cakes, and bread, while using the other for roasting meats and vegetables.
If the dual oven design includes independent temperature controls for each compartment, you can cook two dishes simultaneously at optimal temperatures.
The "12-in-1" designation suggests that this appliance offers various cooking functions. Although it doesn't have 13 functions like the item above, these 12 modes are enough to perform various cooking tasks using a single appliance.
However, some people might find using this "double" oven challenging due to its versatility. They will take time to test and experience themselves!
Space-saving if you need the functionality of two separate ovens but have limited kitchen space.
Save time when cooking elaborate meals
Enough capacity for a small family meal
Have a smart thermometer
Short power cord
The toast function operates too hot
Ninja SP301 – Best For Baking
Key Specifications:
Dimension: 15.33″ x 20.21″ x 8.15″
Weight: 21.27 lbs
Wattage: 1800 W
Capacity: 4 lbs
Dishwasher safe: no
Control method: button, touch

You love baking, but your kitchen is too small to get many appliances. This Ninja SP301 can help you solve this issue.
The Ninja SP301 performs better than other air ovens for baking cake and pizza because of its unique sheet pan design, which effectively converts it into a griddle that maintains heat. The bake option converts your Ninja Foodi into a toaster oven, allowing you to prepare cakes and fast bread.
It has two modes: Air Oven Mode for standard functions and Dual Heat Mode for baking with the sear plate.
The Ninja Foodi Dual Heat Air Fry Oven has a fairly high capacity for a countertop flip-away oven. This air oven can accommodate a 2-pound roast or air fry up to 4 pounds of food at once. This means that you can effortlessly prepare meals for the entire family with this air fryer.
Easy to flip away when not in use
Offer 13 cooking functions
Large capacity
Useful tray for baking
Can be loud a bit
Can be loud a bit
Not recommend using any component in the dishwasher
Related article: Ninja SP101 vs SP201 vs SP301 Comparison
Ninja OL701 – Best For Versatility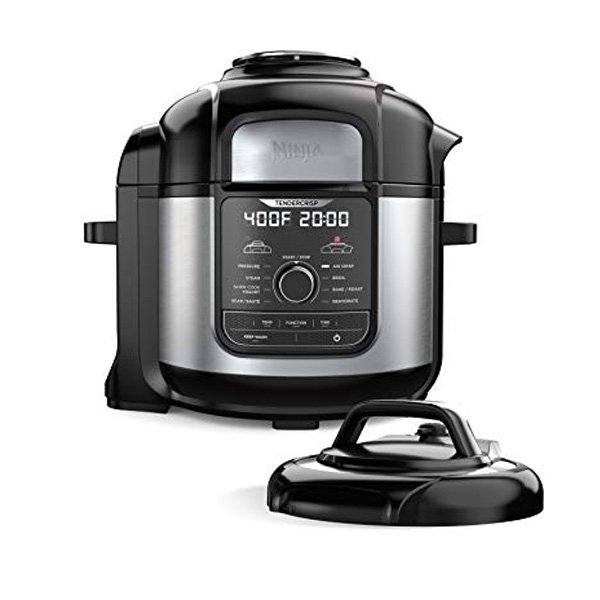 Key Specifications:
Dimension: 14.21″ x 15.39″ x 14.25″
Weight: 25.6 lbs
Wattage: 1760 lbs
Capacity: 8 quartz
Dishwasher safe: Yes
Control method: Push Button
This Ninja Foodi appliance is known for its multifunctionality, offering a wide range of cooking capabilities in a single device. The "14-in-1" designation indicates that this appliance likely provides a comprehensive array of cooking functions, allowing you to perform numerous cooking tasks using a single device. This versatility can include air frying, pressure cooking, slow cooking, roasting, baking, grilling, and more.
This is the option with the most cooking functions on this list.
The "SMART" technology can enhance the appliance's versatility by providing automatic cooking programs, built-in sensors, and connectivity features for precise and convenient cooking.
The Ninja OL701, with its 8-quart capacity, is indeed well-suited for handling larger cooking quantities. This capacity can be particularly advantageous for preparing meals for larger families, gatherings, parties, or batch cooking.
However, this option is pretty big. You need to ensure you have enough space for it!

Modern touchscreen design with a turn dial for easy use
All-in-one smart lid
Offer SteamCrisp technology
Auto steam-release
Include the reversible rack with 2 layers
High price
Create pretty loud noise
Take up your countertop space
Related article: Ninja OL601 Vs OL701
Ninja SF301 – Best For Steaming Food
Key Specifications:
Dimension: 13.8″ x 14.1″ x 12.4″
Weight: 25.6 lbs
Wattage: 1250 W
Capacity: 6 quartz
Dishwasher safe: Yes
Control method: Touch
The SmartSwitch function is one of the SF30 air fryer's notable features. This allows you to effortlessly choose between the air fry and steam functions, with the options lighting up on the front display when selected.
The steam feature functioned flawlessly, with steam quickly rising from the vent. Users have generally been impressed with how simple it is to transition between functions when using the SmartSwitch functionality. This makes it an excellent alternative for individuals searching for a versatile, easy-to-use cooking appliance.
Because all pieces are Teflon-like coated, cleanup is a breeze, and handwashing is recommended. Moreover, even the cooking components can be washed in the dishwasher, making it even easier to use.
This option is better for a smaller kitchen than other items on this list.
However, the crisper tray can get super hot during cooking and has a small handle – making it hard to get to the food on the bottom. Using a set of tongs makes this easier.

Easy to clean up with removable components
Easily switch between cooking functions
Have an intuitive control panel
Not suitable for more than 4 servings
Cannot see inside during the cooking process
Ninja FD401 – Best For Big Families
Key Specifications:
Dimension: 14.57″ x 16.1″ x 14.2″
Weight: 26 lbs
Wattage: 1760 W
Capacity: 8 Quarts
Dishwasher safe: Yes
Control method: Touch
The Ninja FD401 12-in-1 is a versatile kitchen appliance known for its multifunctionality, making it a great option for larger families. It is 14.57″ x 16.1″ x 14.2″ in size. The size is not very big, but its cooking space is up to 8 quarts. That's why we can say this item is best for big families.
The FD401 has a spacious cooking pot and basket, allowing you to prepare larger quantities of food in a single batch. With 12 cooking functions in one appliance, you can prepare different types of dishes to suit various family members' preferences.
One of the most impressive features of this product is the Tendercripse Technology. Quick pressure can cook food to lock in juices and provide a crispy, golden cover.
Cooking food for a big family can be time-consuming, but the FD401's pressure-cooking function can significantly reduce cooking times with the ideal power: 1760W. It will be easier to get meals on the table quickly.
However, you need to be careful when cleaning it up. The ceramic coating may not be durable if you use strong force to wash it!

Have 12 cooking functions
Large capacity
Come with the TenderCrisp Technology
Feature the reversible rack
Not durable coating
Have premium price
Sometimes inconvenient due to the product's lid
Related article: Ninja FD401 vs FD402 Comparison
Ninja DZ550 – Best Ninja Foodi Dual Zone Air Fryer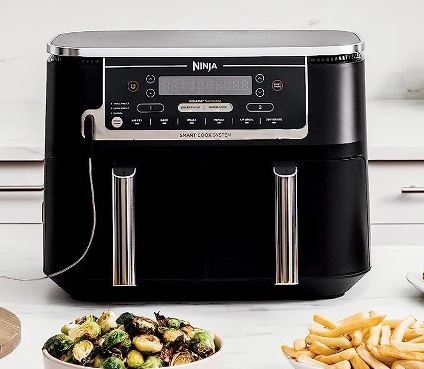 Key Specifications:
Dimension: 13.9″ x 17.1″ x 12.8″
Weight: 19.8 lbs
Wattage: 1690 W
Capacity: 10 quarts
Dishwasher safe: yes
Control method: button, touch
If you are looking for the best air fryer in capacity, this DZ550 is ideal. The item comes with a 10-quart power in the cooking zone.
The Ninja DZ550 XL is great for cooking two items in two different ways simultaneously. You can simply prepare a major dish and a side dish simultaneously for a large meal with its revolutionary DualZone technology (2 independent baskets) and IQ Boost.
The 10-quart size lets you easily cook up to 8 pounds of chicken wings. The Smart Thermometer ensures precise doneness, and the Smart Finish function allows you to cook two items in two different ways that finish at the same moment, or the Match Cook tool conveniently copies settings across zones for a complete 10-quart capacity.
However, its size is about 13.9″ x 17.1″ x 12.8″. Thus, not all kitchens can be suitable for this appliance.
Also, compared to the FD401, the power of DZ550 is not as high, but it has a larger capacity, so it slows down the cooking time. Therefore, the above option (FD401) is still more appropriate if your family is large and busy.
Yet, in case you often organize parties on holidays, the DZ550 with a larger capacity is more optimal.

Offer a 2-basket air fryer to cook 2 dishes at the same time
Large capacity
Easy to use and clean after cooking
Innovative technology to improve dish quality
Can be overheating sometimes
Take up kitchen space
Related article: Ninja DZ201 vs DZ401
Ninja IG651 – Best For Indoor Grill
Key Specifications:
Dimension: 15.7″ x 17.4″ x 7″
Weight: 27.5 lbs
Wattage: 1766 W
Capacity: 4 quarts
Dishwasher safe: yes
Control method: button, touch
Are you looking for an air-frying option to grill indoors? Thanks to its smart capabilities, the Ninja Pro Grill outmatches any regular indoor grill.
The most impressive advantage of utilizing the Ninja Foodi Grill is that while reaching high temperatures, it does not emit clouds of smoke, which appears to occur regularly when cooking food on the stovetop. That's why we can use it for indoor parties without worrying.
And, thanks to its slick ceramic nonstick coating, almost nothing sticks to the grill. You can cook with or without the lid, but you might follow the instructions on when to open the lid!
The product's Smart Cook System allows you to select the desired level of doneness easily. As a result, all you need to do is sit back, relax, and let the machine do the rest.
In terms of performance, the air frying mode also brings users the desired results. It generated many ultra-crispy fries and was wonderfully simple to clean. The fryer basket has enough space to cook up to two pounds of food.
However, the biggest concern of this item is its weight. It's heavy for moving or storing.

Smart thermometer for perfect dishes
Can cook while opening the lid
Even cooking temperature
Heavyweight
Easy-to-damage the cooking surface
Ninja DG551 – Best For Home Party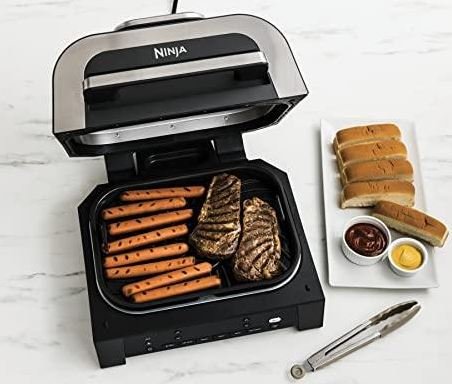 Key Specifications:
Dimension: 15.7″ x 17.4″ x 7″
Weight: 27.5 lbs
Wattage: 1766 W
Capacity: 4 quarts
Dishwasher safe: yes
Control method:
The Ninja DG551 Smart XL Indoor Grill is a flexible and efficient kitchen equipment that combines grill and air fryer capabilities.
It's elegant design and innovative cook technology enable you to attain optimal doneness without guesswork. The cyclonic grilling mechanism assures char-grilled marks and exquisite flavors, and the XL family-sized capacity lets you prepare numerous foods at once.
The grill grate accommodates up to 6 steaks, main courses, sides, and more at once. A flat-top BBQ griddle can cook a dish of nachos, four sandwiches, or six pancakes.
Thus, it can help you enjoy a wonderful home party! However, this option also has a large size that takes up your kitchen space. Its weight is heavy, making it challenging to move!

Provide perfect doneness without guesswork
Large capacity for home party
Offer a smoke control system
Easy to clean
Create loud noise sometimes
Have a long preheat time while grilling
Heavyweight
Ninja AG301 – Best For Small Families
Key Specifications:
Dimension: 14.9″ x 14.9″ x 11.02″
Weight: 14.5 lbs
Wattage: 1760 W
Capacity: 4 quarts
Dishwasher safe: yes
Control method:
The Ninja AG301 is a versatile kitchen appliance known for its air-frying capabilities, and it can be considered a great option for small families.
Compared to the two previous, the Ninja AG301 is designed to be compact, making it suitable for kitchens with limited counter space. This compact size can be a significant advantage for small families living in apartments or homes with limited kitchen space.
The Ninja AG301 is ideal for preparing smaller quantities of food. This is well-suited for small families, as you can cook enough food for a few people without wasting space or energy on a larger appliance.
This option is generally more energy-efficient than larger ovens, which can be advantageous for small families looking to minimize energy consumption.
The AG301 cooks food quickly due to their hot air circulation technology. This is beneficial for small families who may have busy schedules and want to prepare meals in a shorter amount of time.
Modern design
Simple control for easy use
Smokeless grill
Have programmable timer
Not feature an auto-warm function
Midrange price
Related article:
Ninja OG701 – Best For Outdoor Grill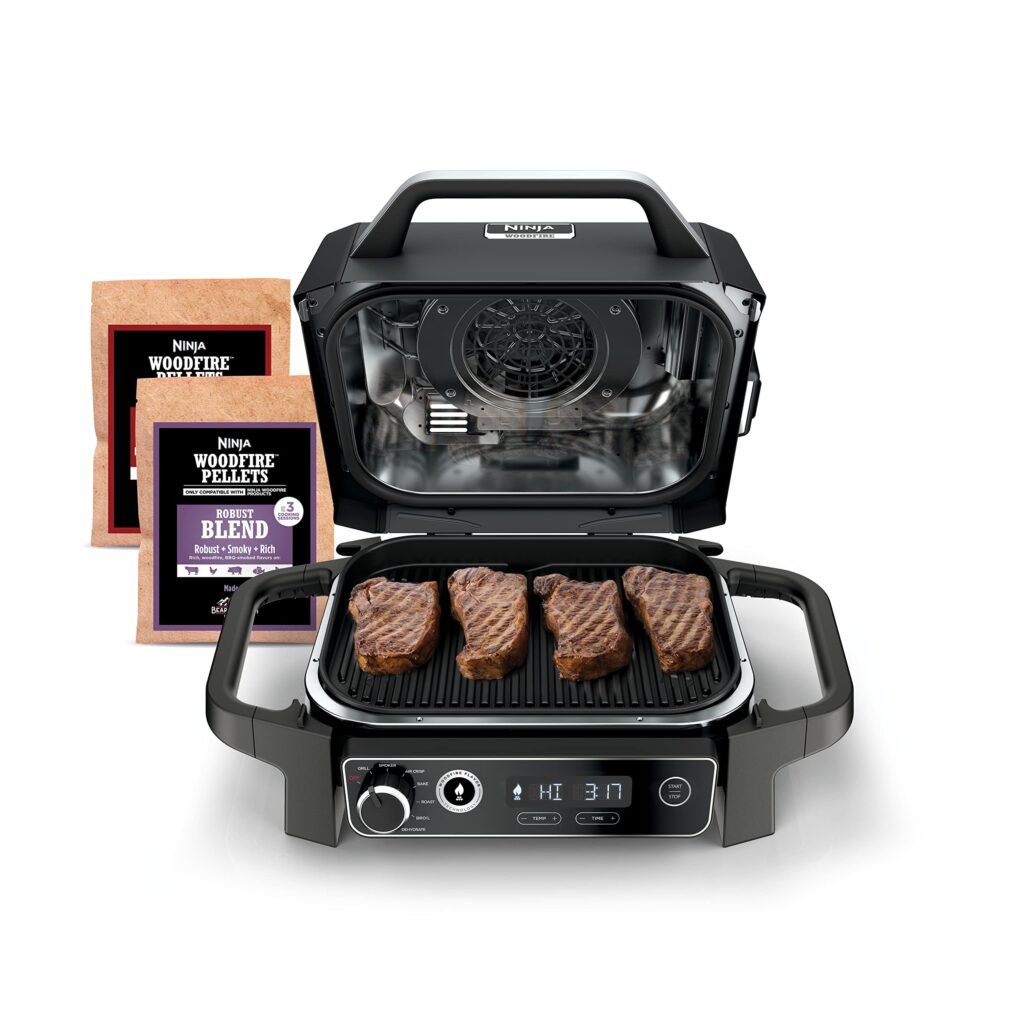 Key Specifications:
Dimension: 23.62" x 18.58" x 13.31"
Weight: 30.6 lbs
Wattage: 1000W
Capacity: XL Family size
Dishwasher safe: N/A
Control method: knob

Do you love outdoor grilling? The Ninja OG701 can be ideal for your needs. The Ninja OG701 Outdoor Grill is a multifunctional 7-in-1 master grill used as a BBQ smoker, grill, air fryer, roast, bake, dehydrate, and broil.
This outdoor grill, powered by electricity and flavored by actual burning wood pellets, creates rich wood fire flavor with any cooking function. It includes Ninja Woodfire Pellets, which provide excellent hardwood flavor to all dishes.
The OG701 features XL family-sized capacity and a weather-resistant design. Thus, you can use and store it outdoors.
The grill is simple to operate, with clear instructions and convenient features such as temperature warnings and preheating messages. Its capacity allows you to grill six steaks, air fry up to three pounds of wings, or BBQ smoke an entire brisket.
Offer real burning wood pellets to provide authentic wood-fired flavor
Simple to use with preheating notifications and temperature alerts
No charcoal needed
Lack a thermometer
Not have a grill stand
Ninja AF101 – Best For Budget
Key Specifications:
Dimension: 8.5″ x 12.1″ x 11″
Weight: 10.58 lbs
Wattage: 1550 W
Capacity: 4 quarts
Dishwasher safe: no
Control method: Touch
If you want an option with a friendly budget, the Ninja AF101 can meet your requirements. This choice is also the most compact among Ninja's product line of air fryers. So, it can fit with any type of kitchen.
Although it doesn't offer as many cooking features as other options, it is enough to optimize your daily cooking. Four preset settings (Air Fryer, Roast, Dehydrate, and Reheat) are tailored to the type of cooking.
The nonstick ceramic basket and grill are another fantastic feature of the Ninja AF101. This coating is exceptionally robust, does not scratch easily, and can endure temperatures up to 426.7 °C.
Affordable price
Lightweight
Energy efficient
Wide temperature range
Limited cooking functions
Smaller real food capacity
Conclusion
Our Ninja air fryer reviews have explored the 12 best Ninja air fryers about the features, capabilities, and performance of these appliances.
From compact models cutting tailored for small families to larger, multifunctional units perfect for extensive cooking foods, Ninja's air fryers have been impressed with their sleek designs and user-friendly interfaces.
If you want a long-term and reasonable investment but still don't know which model to choose, try our best overall: Ninja SP351. With a mid-range price, this model has balanced all the impressive features of Ninja air fryers.