Are you considering whether to buy a Microwave or an air fryer? Does anyone make a microwave air fryer combo? Or What is the best air fryer microwave to buy?
We have heard about separate kitchen appliances such as microwaves and air fryers. But a combination of 2-in-1 devices is now available on the market. Many people think that buying a microwave with air fryer is a convenient idea, but choosing the best microwave air fryer combo is never an easy task.
There is no doubt that this combo can help us save lots of time, money, and space for your kitchen. Hence, brands have launched a wide range of the model. And this mass could make your shopping journey much more confusing, sometimes.
For those who still get confused a lot, we are here to help. So, let's get started with some basic information first. 
What is a microwave air fryer combo?
A microwave air fryer combo is a small kitchen appliance that combines the technology of a microwave and an air fryer in one device. In other words, only a kitchen appliance can double as a microwave and an air fryer. It allows you to cook food quickly using microwave energy, while also providing the crispy texture of fried foods using hot air technology.
It's benefits
Using the microwave air fryer combo can be a convenient and healthier alternative to traditional deep-frying or oven baking, as it requires little to no oil and can cook food quickly and evenly.
The appliance has a variety of settings and cooking modes, allowing you to cook a variety of foods, including chicken wings, fries, vegetables, and even desserts.
A microwave with air fryer is generally more compact and takes up less space when you have both air fryer and microwave function, which makes them ideal for small kitchens. Those who want a multifunction device that can do more than just air fry or microwave.
How does a microwave air fryer combo work?
The microwave air fryer work by using microwaves to cook food from the inside while circulating hot air around the food to crisp the outside. This process allows you to achieve the texture of deep-fried foods without using too much oil or fat.
To use an air fryer microwave combo, you would normally place the food in the basket or tray of the air fryer and select the desired cooking mode, which can microwave air fry or a combination of both. The appliance then cooks the food according to the selected settings, giving you a quick and convenient cooking solution to create delicious, crispy dishes with little to no effort.
Our Top Picks
Image

Product

Editor's Rating

Price

Our Pick

1

TOSHIBA ML2-EC10SA(BS) 8-in-1 Countertop

2

Toshiba ML-EC42P(SS) Multifunctional

3

Panasonic HomeChef 4-in-1

4

Galanz GSWWA16S1SA10 3-in-1

5

Galanz GTWHG12S1SA10 4-in-1

6

GE 3-in-1 Countertop

7

Cuisinart AMW-60 3-in-1
Microwave Air Fryer Combo Buyer's Guide
When searching for the best microwave air fryer (or best air fryer microwave) there are several factors to consider. They include functionality, accessories, price, capacities, brand, and warranty. 
Functionality
We consider functionality as the most important point of the appliance. Simply put, a model would become worthless unless the air fryer part can offer good performance. The same goes for the microwave part, too. Thus, all key functions must work well all the time.
In terms of functionality, you also should not ignore the heating element. Some products tend to overheat during operation. Besides, you have to look at the power usage. Most models require around 120 watts. Plus, adjustable power settings are essential for various purposes.
Accessories
The more accessories the combo goes with, the better convenience you can experience with the device. Common attached things include a glass tray, an air fryer pan, etc.
Price
As for a consideration related to a microwave air fryer combo, the price tag could be a bit higher. An integrated product must be more expensive than any normal separate one.
That said, the cost of an air fryer microwave combo will be much more affordable than the total price of an air fryer and a microwave. In the current market, this combo often ranges from $200 to $500.
You can choose the most reasonable option based on your budget. However, the low-quality models could make you disappointed in the long term.
Capacities
Another important element for your consideration is the capacity of the combo that you choose. The appliance should provide enough room that you can prepare the meals. Also, it helps you get the best support from this modern device.
The capacity seems not to be a big deal in shopping at first. However, it will be a money-wasting decision to pick a too-small air fryer. 
For more details, we suggest choosing the size of 0.6 cubic feet for great spaciousness. On the other hand, 1.2 cubic feet and 1.8 cubic feet are also available for medium and larger capacity, respectively.
Brand reputation
Choosing reputable brands that have many customers buying and evaluating is a smart choice. We can mention leading brands in home and kitchen appliances such as GE, Panasonic, Toshiba, Galanz, and Cuisinart.
Warranty
Along with prices, the warranty should be an indispensable part of your consideration. It would help to buy the products with a competitive policy of warranty. For long-term use, no one can ensure that there will not be problems with the device.
Top 7 Microwave Air Fryer Combos
TOSHIBA ML2-EC10SA(BS) – Best Overall
The first candidate for the best microwave air fryer convection oven is Toshiba ML2-EC10SA, impressing us with its 8-in-1 functionality.
In other words, one device comes with eight different functions. They include a microwave, an air fryer, a convection baking oven, a grill, an appliance for combination cooking, an appliance for low-temperature cooking, an odor removal, and a defrosting machine.
In comparison, the Toshiba ML2-EC10SA is superior to many other models due to the mode for low-temperature cooking. It brings great convenience when you ferment yogurt, dehydrate fruits, raise dough, or keep food warm.
Another outstanding point of this model is the position memory turntable. The innovative technology enables the turntable to reset to the initial position after every use. Thanks to this feature, you can avoid getting hurt by accident when taking the container out.
Besides, the ML2-EC10SA doesn't fall behind the energy-saving trend. The manufacturer designs the model with a special feature called the ECO mode. It can help minimize about 50% of power if you turn on this setting. That said, ML2-EC10SA still consumes more energy than its counterparts.
Specifications
Weight: 40.8 pounds
Dimensions: 20 x 20.5 x 12.8 inches
Wattage: 1000 watts
Capacity: 1 Cubic Feet
Country of Origin: China
Energy Use: 1500 Watts
Material Type: Metal
Color: Black Stainless Steel
Interior LED light for easy observation
Durable stainless material
Modern touch control panel
Useful convection function for many cooking purposes
The device weighs 40.8 lbs. Thus, moving it from one place to another will be a big problem.
High energy consumption with the hot-air condition
Toshiba ML-EC42P(SS) – Best for Quiet Operation
When the turntable rotates, a buzzing noise often comes with the device. However, it is not the issue for the Toshiba ML-EC42P(SS). The product features the ECO+Mute that removes most of the noise while operating. Hence, no noisy operation will bother you.
The Toshiba ML-EC42P(SS) does not offer as many functions as the Toshiba ML2-EC10SA above. But it is still available with four typical settings commonly found in any combo. In other words, it can help microwave and air fry food. Also, you can choose the convection or combination cooking mode.
With a normal mode, the ML-EC42P(SS) could require too much energy for operation. As a solution, the manufacturer adds the ECO Mode for this model, and the result is that energy consumption can decrease by up to 50%. It constitutes an innovation with a typical electronic appliance to save our planet.
In terms of modern technologies, it must be the Smart Sensor. What does it mean?
With the model ML-EC42P(SS), Toshiba can make any busy user become a great home chef. The Smart Sensor is useful with 13 auto menus. A built-in sensor can determine the suitable humidity level for different foods, and during cooking, it makes both temperature and time adjustments automatically.
The Smart Sensor and the device also offer a capacity of 1.5 cubic feet (a high level, in general). Thus, you do not have to worry about some big-size ingredients.
Regarding the Toshiba ML-EC42P(SS), some people are still on the fence. It is because of the keypad, which sometimes lacks sensitivity.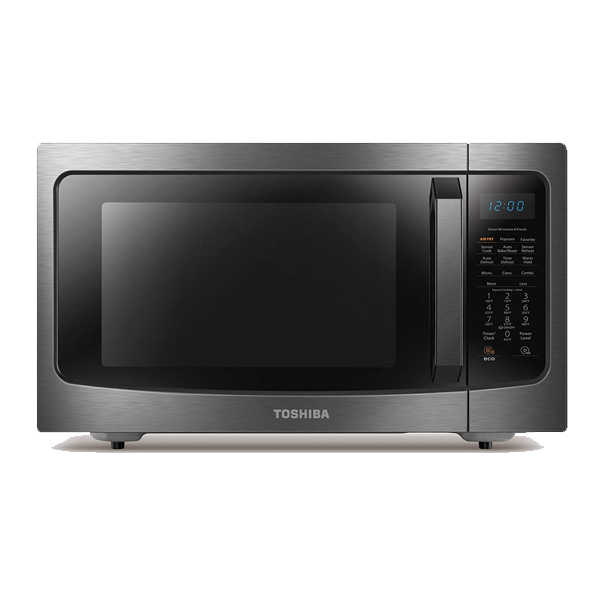 Specifications
Weight: 45.5 pounds
Dimensions: 21.5 x 21.77 x 12.99 inches
Country of Origin: China
Energy Use: 1500 Watts
Capacity: 1.5 Cubic Feet
Color: Silver
Voltage: 120
Wattage: 1000 watts
Material Type: Stainless Steel
Super quiet operation, best fit for households with babies and seniors
You don't need to worry when kids come around, as there is a child lock available
Easy-cleaning materials, regaining their glossiness with some wipes
Affordability, suitable for tight and medium budgets
Reliable heat distribution, cooking food evenly
A convenient way for the door to stay open (wait for you to place food inside)
Not a compact design. Those with a cramped kitchen should think twice
Panasonic NN-CD87KS – Best for Compact Design
Another player in the battle is Panasonic NN-CD87KS. This model should be the top priority for those who expect a great compact design.
The NN-CD87KS measures 14.97 x 15.36 x 9 inches and weighs 39.1 lbs. In particular, The form makes this combo suitable for small kitchens. It will not take up too much room on your countertop.
Besides, a space-saving dimension does not mean a small capacity. For more details, this Panasonic model offers an interior room of up to 1.2 cubic feet, allowing you to place an enamel tray and an air fryer basket inside simultaneously.
With the Panasonic NN-CD87KS, we have an all-in-one multi oven. The appliance does its functions as a microwave, a broiler, an air fryer, and a convection oven. In particular, each can work alone or in combination based on your setting.
Due to fewer functions than the 8-in-1 Toshiba model above, the Panasonic NN-CD87KS consumes less electricity, and the wattage reaches 1000 watts only.
Unlike the traditional model, the NN-CD87KS comes with the genius FlashXpress technology. It creates an instant and continuous heat flow to brown and crisp your food with a tasty look easily and quickly. However, its operation could be a bit noisy.
Specifications
Item Weight: 39.1 pounds
Dimensions: 14.97 x 15.36 x 9 inches
Country of Origin: China
Energy Use: 1000 Watts
Capacity: 1.2 Cubic Feet
Color: Stainless Steel
Voltage: 120 Volts
Wattage: 1000 watts
Material Type: Stainless Steel
Energy-saving inverter technology thanks to its compactness and minimal wattage
Modern sleek looking and does not take a large footprint on your countertop
Auto-defrosting function to thaw food in a blink of an eye
Sensor cooking technology for more convenience
No child lock is available, so keep it high out of children's reach
Confusing Time setting button
Galanz GSWWA16S1SA10 – Best for Big Capacity
A big family often needs a generous capacity. And the Galanz GSWWA16S1SA10 can meet that requirement with the interior room up to 1.6 cubic feet. It is an ideal capacity option in our recommendation, which can handle a 5-pound chicken to spoil many hearty eaters at once.
In terms of functionality, the GSWWA16S1SA10 constitutes a basic model with three main settings. The appliance functions as a microwave with three different speeds. It does the tasks of convection and an air fryer, too.
The highlight should be a special combination when it comes to the Galanz GSWWA16S1SA10 – True Convection combined with Combi-speed Cooking.
Both of them ensure the smooth circulation of heated air. Along with the heat, the food spins 360°F inside the oven. And the cooking process goes more quickly than normal with the traditional device. That is why you can enjoy finished dishes with the optimum taste and texture.
As for the display, you could find trouble with this part. Some users complain about incorrect information displayed on the screen.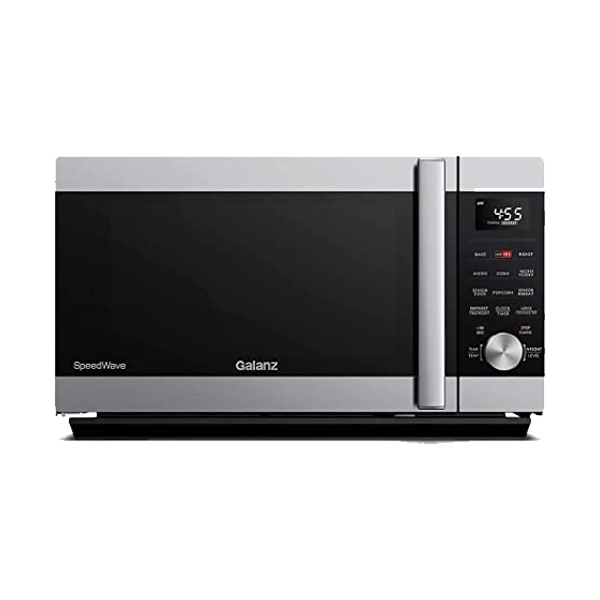 Specifications
Item Weight: 39.5 pounds
Dimensions: 21.75 x 22.94 x 12.69 inches
Energy Use: 1000 Watts
Capacity: 1.6 Cubic Feet
Color: Stainless Steel
Voltage: 120 Volts
Wattage: 1000 watts
Defrost: Defrost
Material Type: Stainless Steel
Air circulation to cook food more quickly and evenly
Sensor reheating technology
Versatile with 10 cooking settings
Large capacity to feed the whole family
Heavy-duty handle
Convenient accessories: glass tray, baking and roasting pan, roller ring, and shaft
Not a space-saving option due to its large compartment
Galanz GTWHG12S1SA10 – Best for Air Frying
In the form of a combo, the Galanz GTWH12S1SA10 is a multifunction kitchen appliance. Galanz designs this 4-in-1 model as a microwave, an air fryer, a convection oven, and a toaster. And of those four, the brand focuses on the function of air frying at most.
GTWH12S1SA10 features the modern TotalFry 360 Technology. This innovation lets dishes such as French fries and chicken wings stay crunchy in a healthier way. Instead of using hot cooking oil, the enhanced technology uses superior air circulation through the built-in heating elements for the whole process.
The Galanz GTWH12S1SA10 helps us save our health through oil-free cooking methods. Also, it helps save our planet through Galanz's patented inverter technology, which generates constant heat to maintain an exact temperature when cooking. Hence, there is no need to pulse on and off, which could consume lots of energy.
As for the toasting function, this part is not as good as the others. It often takes 4-6 minutes to toast two slices of bread.
Specifications
Item Weight: 40.2 Pounds
Color: Stainless Steel
Dimensions: 21.25″D x 22.25″W x 12.56″H
Capacity: 1.2 Cubic Feet
Wattage: 1000 watts
Material: Stainless Steel
Country of Origin: China
Energy Use: 1000 Watts
Voltage: 120 Volts
Defrost: Defrost
Material Type: Stainless Steel
Big capacity
Energy-saving solution
A silicone mat is attached to prevent slips
Super easy to use
Easy-to-clean material
The toaster does not work well, taking too much time
Rather big and bulky for a small kitchen
GE JES1109RRSS – Best for Defrosting
Like other products on our list, the GE JES1109RRSS comes with a 3-in-1 set of settings. It is available in three different modes, including the air fry mode, the convection mode, and the broil mode.
When digging deeper into this model, you have a chance to experience its great auto-defrosting function. You only need to enter the food type and its weight. Then, the machine can automatically choose an optimal power level and defrosting time. Also, you can set the time yourself.
In addition, GE allows their model JES1109RRSS to run simultaneously in microwave and air fry mode. The appliance (capacity of 1 cubic foot) combines microwaving speed with convection cooking. This fusion, then, gives your food a perfect brown look.
The JES1109RRSS would be better if there is an improvement with its control panel. Without light, you could find it difficult to see the buttons.
Specifications
Item Weight: 35 pounds
Product Dimensions: 16.6 x 20.6 x 11.88 inches
Country of Origin: China
Energy Use: 1050 Watts
Capacity: 1 Cubic Feet
Color: Stainless Steel
Voltage: 120 Volts
Wattage: 1050 watts
Defrost: Auto Defrost
Material Type: Stainless Steel, Glass
Superior defrosting function. You just need to set the time and weight, and the device will do the heavy lifting
Compact size, suitable for small kitchens
Modern stainless exterior to blend in any decor
A crisper pan attached
Fewer special features
Low durability
The capacity is not too generous, best fit for families of 2-3.
Cuisinart AMW-60 – Best for Single Users
It is a great choice for people living alone in a small flat. The Cuisinart AMW-60 looks compact with a dimension of 15.27 x 17.95 x 13.39 inches. In particular, this model weighs 25 lbs. only. Thus, it will not take up too much space in your kitchen. Plus, you can move anywhere easily.
A small appliance can bring a great solution. It does a bang-up the job of a typical microwave with power levels ranging from 0 to 10. The product is like an air fryer and a convection oven, too. The 3-in-1 functionality seems enough for you to have quick, tasty meals every day.
In addition to a group of functions, the Cuisinart AMW-60 has the same features as many other typical air fryer microwave combos. Due to the compact size, this model can only offer up to 0.6 cubic feet capacity. But we bet this is more than sufficient to feed one person, or in case you have a friend dropping by.
Specifications
Item Weight: 25 pounds
Product Dimensions: 14.4 x 17.9 x 13.8 inches
Country of Origin: China
Energy Use: 1500 Watts
Capacity: 0.6 Cubic Feet
Color: Black
Wattage: 1500 watts
Defrost: Defrost
Material Type: Stainless Steel
Space-saving size, suited for single individuals
Convenient knobs for easier control. Even dummies in cooking can master it
Lightweight for easy transport in case you – a person single – usually move to a new house
Come with a 3-year warranty. You can rest assured about its quality
Higher energy consumption
Small capacity
The Air Fryer Microwave Combo FAQs 
Are Microwave Air Fryer Combo Worth It?
Yes, they are. The appliance can help save a lot of kitchen space. Besides, having an air fryer microwave combo is more affordable than buying these two separately.
Can I put aluminum foil in an air fryer microwave combo?
When in Microwave mode, putting aluminum foil in the appliance may cause an explosion. You should only use aluminum foil when in the air fryer mode.
Can I put metal in an air fryer microwave?
You can put metal such as a metal bowl or plate in the air fryer mode. When in the microwave or mixed mode, absolutely not! The electromagnetic field in the microwave creates a conduction current in the metal, and it can be overwhelmed by the internal conduction current and heat up suddenly, potentially causing a fire.
Can an air fryer do everything a microwave can do?
No, Microwaves and air fryers use different cooking methods. Microwaves cook food by using microwave radiation, while air fryers use hot air to cook and crisp food.
Should I buy an air fryer if I have a microwave?
If you enjoy crispy, fried food and looking for a healthier way to cook crispy, fried food and want a convenient way to cook a variety of meals, an air fryer can be a good investment even if you already have a microwave. Buy a microwave air fryer combo is the best choice.
Final thoughts
In conclusion, An air fryer with microwave function can be a valuable addition to any kitchen. It provides the convenience of a microwave and the versatility of an air fryer, allowing you to cook a wide variety of foods quickly and easily.
We have reviewed some of the products on the market, highlighting their key features, pros, and cons. We have also provided a buying guide to help you choose the best microwave air fryer combo for your needs and budget.