We, who have consumed a lot of energy and time in kitchens and experienced different air fryers, were thrilled to share the top 8 candidates for the best air fryer with rotisserie on the market. 
An air fryer with rotisserie offers the convenience of cooking with little to no oil while providing the even cooking and crispy texture of a rotisserie. Rotisserie chicken on the spit helps to ensure even cooking and a crispy exterior, while the air frying function helps to reduce the fat content of chicken.
An air fryer with rotisserie is a great investment. With so many options with various models, prices, and quality on the market, it can be challenging to choose the right one. Our review will help you make an informed decision and find the best air fryer with rotisserie to fit your needs and budget. Now, let's go!
What is an air fryer with rotisserie?
An air fryer with rotisserie or rotisserie air fryer is an air fryer that integrates the rotisserie function, often with accessories such as a rotisserie tong, rotisserie rod, skewer rotisserie, rotisserie cage, or rotisserie steak cage. In addition, the air fryer is often integrated with many other features such as Grill, Roast, Bake, Rotisserie, and Dehydrator.
This kitchen appliance offers a series of outstanding functions in cooking, so more and more housewives want to own one for their kitchen, helping to use their time every day efficiently.
Rotisserie chicken
Rotisserie chicken is a delicious and versatile dish that has been enjoyed by people for generations. The dish is prepared by skewering a whole chicken on a rotating spit and cooking it slowly over an open flame or in an air fryer. The rotation of the chicken helps to ensure even cooking and crispy skin, while the meat inside remains juicy and tender.
Rotisserie chicken is a popular choice during celebrations or family gatherings, as it is easy to prepare and can serve many people. It can be served on its own as a main dish or used as an ingredient in a variety of recipes, such as soups, stews, salads, sandwiches, and tacos.
With the support of Air Fryer Rotisserie Combo, housewives can make Rotisserie chicken right in their kitchen without having to be as picky as traditional ways.
Our Top Picks
Image

Product

Rating

Price

Best Budget

1

Instant Pot Vortex Pro 10 Quart, 9-in-1

Best Overall

2

Innsky 10.6 Quart

Best Value

3

Chefman 10 Quart Multifunctional Digital

Best Air Fryer Grill

4

GoWISE USA 14.7-Quart Air Fryer Grill

Best Air Fryer Oven

5

NUWAVE Brio Air Fryer Smart Oven, 15.5-Qt

Top Pick

6

PowerXL Air Fryer Grill 8-in-1

Best Air Fryer Toaster Oven

7

COSORI Air Fryer Toaster Oven, 12-in-1(CS130-AO)

8

Emeril Lagasse Power Air Fryer 360 Max XL

9

Ninja DT201 Foodi 10-in-1 XL Pro

10

Instant Pot Omni Pro 6-slice 20-Quart 14-in-1
Air Fryer For Rotisserie Chicken Buying Guide
Size
Before buying an air-fryer oven with rotisserie, check the frying capacity or size. The number of people in your family is a decisive factor to determine the size of this kitchen appliance.
For example, a 4l or 5l capacity is great air fryer for a family of 4 to 6.
Functionality
It would be helpful to seek an air fryer oven that handles common cooking options. Multifunctional is optimal to look for these days, or at least it can perform four typical cooking functions: rotisserie, grill, roast, and bake.
Nevertheless, add-ons will give it a major plus point! Also, an air fryer oven with more than five functions has a wide range of high temperatures. The highest temperature of any air-fryer oven equipping 6 to 12 cooking functions is roughly 450°F.
Price
Keep in mind that pricey things are not always the best choice. So, look for an item that is worth the value of money and fits your budget. You need to seek the kind of air fryer you are willing to pay for and meet your demands.
Accessories
Which accessories indeed depend on which purpose you intend to use the kitchen tool. Yet, most air fries will need a rack to meet some basic cooking options.
Racks are a vital accessory that can maximize your cooking capacity. A standard air-fryer rotisserie should come with at least two or three detachable racks.
We completely recommend that you should never run your budget for an air fryer without this part.
Warranties
Now, it is necessary to check the warranty policy of your air fryer intended to buy. The most prevalent guarantee you will notice is roughly one year, yet you must also clear some additional warranty coverage related to the return policy or installation.
Top 10 Best Air Fryers with Rotisserie
Instant Pot Vortex Pro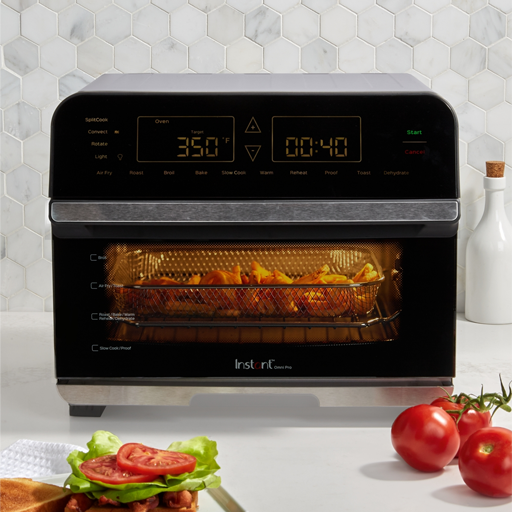 Specifications:
Item Dimensions: 13.75 x 14.37 x 13.23 inches
Item Weight: 17.5 Pounds
Capacity: 10 Quarts
Wattage: 1500 watts
Temperature: from 95 to 400°F.
Model: 140-3002-01
Opening this list is a 9-in-1 air fryer from the Instant Pot brand. These functions consist of rotisserie, dehydrating, proofing, reheating, toast, baking, boiling, roasting, and frying. This diversity allows you to handle most dishes for your family. 
The option comes to this market with a great size of 10 quarts, which is appropriate for most households (approximately 3-4 members) these days.
Furthermore, the manufacturer has equipped a Single-Touch smart function, which comes with six-customizable settings. This program permits you to adjust how crispy the chicken is with ease.
In addition, the tool has presets and even push-button operation in case manual settings are needed. This adds more convenience for users when using this equipment. Also, the gadget is famous for the crisp technology to make any food inside equally distributed.
When it comes to accessories, this model will offer you a full rotisserie kit. It includes two perforated trays, a stick-free drip pan, a lift tool, rotisserie forks and spit, and a stainless-steel basket.
That is not to mention the dishwashable components – a blessing for housewives. But we would give it a minus point due to the door, which is hard to open and close at times.
Having a rotisserie-style basket
Multiple functions
Simple to clean and use
Durable and quality materials
Full accessories of rotisserie kit
Great capacity, might handle various food
The door occasionally gets stuck when closing and opening.
GoWISE USA GW44805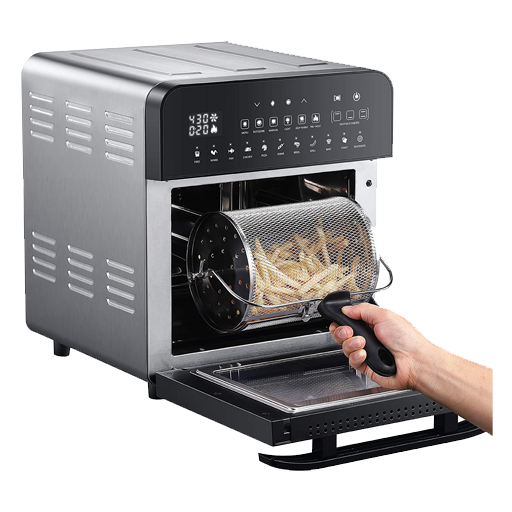 Specifications:
Item Dimensions: 13 x 12.75 x 14 inches
Item Weight: 28.4 pounds
Capacity: 14.7 Quarts
Wattage: 1700 watts
Temperature: Up to 450°F.
Model: GW44805
The model from GoWise is designed with double heating components built to heat up evenly and faster to shorten your cooking time. It is a hybrid of the air fryer technology and an oven's design, which delivers everything you want in a kitchen.
Use manual mode to have absolute control over the heating, permitting you to pick between dual, top, or bottom heating. With the first mode combined with the super rapid-air tech, the item lets you handle most kitchen tasks in one device, such as bake, toast, roast, dehydrate, sear, grill, and air fry. 
The product boasts a heavy-duty cast-aluminum nonstick grill place, delivering the unique pattern to settle right over its bottom heating component for even faster heating. Its anti-stick surface makes wiping up easy and removes the elbow grease needed to scrape and scrub food residues after that. 
Come with ten extra accessories
Equipped with the latest preheat function heats to let you know when it's the right time to place your food in.
Multifunction to complete all cooking tasks
Sleek design with silver coating, blends well in any kitchen decor
Stainless steel housing, easy to clean and durable
Without rotisserie forks
The light is a hit-and-miss
Innsky IS-AF001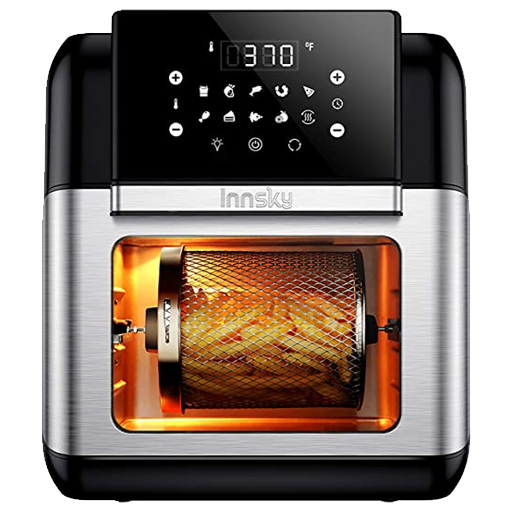 Specifications:
Item Dimensions: 14.2 x 11.4 x 14.3 inches
Item Weight: 6.8 Kilograms
Capacity: 10.6 Quarts
Wattage: 1500 watts
Temperature: from 150 to 400°F.
Model: IS-AF001
This appliance gains more and more consumers' love thanks to its outstanding features, focusing on a delicious but healthy lifestyle. Reasonable mesh and air duct patterns make the food lock in flavors as well as more evenly cooked.
In addition, the food-type non-stick substance is PFOA and BPA-free, ensuring the user's healthy life. Apart from these factors, the air fryer allows you to contribute to lessening almost 90% fat in comparison with normal frying recipes but still reaches superior crispiness with a deep-fried flavor.
When you purchase this item, you will get a set of extra bells and whistles which give you more cooking choices. In particular, it will come with a rotisserie shaft, drip tray, eight skewers, a removal tool, two mesh racks, and a high-end stainless-steel rotisserie basket. You can discover more cooking methods for your family with these tools.
The overheating protection setting and automatic shut-off feature add more convenience to your enjoyable cooking journey. Additionally, the version features a luxury structure and look, which were guaranteed by ETL & RoHS.
This is an ideal healthy present for food-loving friends, family, and parents.
Great for your healthy diet
Versatile all-in-one kitchen equipment
Space and Energy Saving
Premium construction with a chic design
Components are removable and safe for dishwashers
Some users report that its rotisserie basket isn't simple to clean
Chefman 10 Quart Multifunctional Digital
Specifications:
Item Dimensions: 12.2 x 11.81 x 14.56 inches
Item Weight: 14.2 Pounds
Capacity: 10 Liters
Wattage: 1700 watts
Temperature: 200 – 400°F.
The producer launched the model aiming to introduce an air fryer with XL Capacity, which meets the demands of busy families. The capacious ten-liter household-size capacity is ideal for easy baking desserts, treating a crowd, preparing school lunches, and weeknight dinners.
The version offers a capacitive-touch screen display and handles up to 17 cooking presets and three cooking functions. To cook food, you just adjust the setting and press the button, pretty easy and convenient. For hectic residents, preparing breakfast for a meal with minimal effort and time is their priority. And this Chefman air fryer simply hits the spot.
Moreover, the product lends users superior convenience thanks to interior lighting. The feature lets you monitor your food with ease during cooking time. When you buy the product, you will get a drip tray, a stainless-steel rotating retrieval/ basket tool, stainless-steel rotisserie forks and spit, and three air-flow racks. These are removable and safe for dishwashers.
XL capacity, serving about 4 people
17 cooking presets, best fit for hectic families
Auto shut-off functions for busy users
Consists of an almost full rotisserie kit
NUWAVE Brio Smart Oven
Specifications:
Item Dimensions: 13 x 15.4 x 16.9 inches
Item Weight: 28 pounds
Capacity: 13.25 Liters
Wattage: 1500 watts
Temperature: from 50-425°F in precise 5°F increments.
Model:15.5-Qt X-Large Family Size
The product comes with the Brio's intuitive smart controls, which allow you to create remote adjustments that are simple to operate, and its response is quite immediate. The feature also delivers an internal light that helps you manage your cooking progress, eliminating the requirement to unlock the door.
Brio utilizes superior air-flow design and ultra-heated air to cook crispy-tasty fried meals without leaving oily touches. This technology also permits you to fry all ingredients, even frozen ones, without thawing.
The producer has applied the built-in smart temperature probe to this version. Once the expected doneness heat is set, the mode regularly controls the internal heat of the foods. It then automatically disconnects the frying process when reaching your desired temperature. In addition, it features a right-cooking approach to assure the fish or meat isn't overcooked or undercooked.
The appliance also possesses the Linear T (thermal) tech, which is patented and allows you to tune your own temperature settings ranging from 50°F – 425°F (in exact 5°F increments). Thanks to that, the system can detect temperature fluctuations, then create constant adjustments (up to 120 times each second) to keep the temperature precise during the cooking process and assure ideal results. 
Allow for remote control
Smart technology to streamline your cooking
100 presets on the menu
Easy to clean
Safe for dishwashers
Unique multi-level design
Flimsy racks
Plastic door, requiring careful operation
PowerXL 8-in-1
Specifications:
Item Dimensions: 15 x 19 x 10 inches
Item Weight: 10 Pounds
Capacity: 4.54 Liters
Wattage: 1700 Watts
Temperature: Up to 450°F.
Model:B-AFO-002
This 4.54-liter multi-cooking indoor grill can handle 10 pounds of chicken or 6 burgers at a time, which might prepare enough food to feed a nuclear family of three or four.
The PowerXL features eight digital preset-cooking functions: rotisserie, grill, bake-pizza, air fry, sear, toast, broil, and reheat. Especially, the air-fry setting can fry French fries and grill steaks simultaneously for a whole meal and cook ingredients right from a freezer without defrosting. 
Once you receive its package, you will get a recipe book, rotisserie spit, drip tray, roasting rack, baking pan, and mesh fry basket. All these accessories are perfect for nuclear-family cooking.
The best is yet to come. The extra-golden crisp tech lets your food have 70% fewer calories than normal cooking methods. Also, the product helps you to cook food faster by 40% than any other traditional oven. This is indeed ideal for bringing healthy and convenient meals to your small family.
Easy to clean as components are dishwasher-safe
Still, keep juicy textures of foods
Recipe book included for newbies
Suitable for dieters with a 70-percent calorie cut down
Might make some noise during cooking time
COSORI CS130-AO
Specifications:
Item Dimensions: 20.1 x 16.5 x 12.5 inches
Item Weight: 19.6 Pounds
Capacity: 32qt / 30L
Wattage: 1800 watts
Temperature: 80-450°F / 27- 232°C.
The best air fryer toaster oven with rotisserie meets up to 12 multi-cooking functions for users, particularly: rotisserie, bagel, toast, pizza, roast, bake, air fry, cookies, broil, ferment, dehydrate, and heat-up to keep the food warm before being served.
You just need to pick the desired preset without setting a temperature, facilitating your tasks if you are running a small food store. 12 settings are more than sufficient to please the diverse tastes of your customers.
The model from the Cosori brand is equipped with a Convection feature which can help us reduce cooking time as well as even cooking thanks to its convection fan- especially pretty ideal for rotisserie chickens when it can maintain crispiness and evenly for the flesh of the chicken.
This product has an incredibly large capacity of 30 liter/ 32 quart which can handle an entire big rotisserie, six big slices of bread, or a 13-inch pizza. Don't worry if you have to cater to 8-10 diners at once, as this capacity can serve them all.
You will earn a great reputation for your own shop by applying one hundred-original recipe from the Cosori kitchen. You just need to update monthly via the VeSync application and enjoy cooking videos that instruct you, particularly on how to create various dishes for your customers. 
Digital kitchen assistants utilize voice control and the smartphone
Less oily taste
Even quick cooking
Many recipe tutorials included
12 settings with an ample capacity, serving many diners at a time
Emeril Lagasse Power Air Fryer Oven 360
Specifications:
Product Dimensions: 13″D x 19.7″W x 15.6″H
Color: Silver
Capacity: 350 Milliliters
Material: Stainless Steel
Item Weight: 21 Pounds
Brand Emeril-Lagasse
Wattage: 1500 watts
Has Nonstick Coating: No
Max Temperature: 400°F
This air fryer is armed with five super all-over heating features, aiming to reach an even outcome on all sides of food in the whirlwind of ultra-heated air. This promises to bring your food a crisp crust with a juicy interior. 
Also, this machine comes with the 360° quick-cook tech with 1800 watts which reduces cooking time by 40% faster than typical ovens. Rapid cooking without needing to add oils, unhealthy grease, or fats is vital in adding more convenience and providing healthy meals.
The manufacturer has furnished 12 cooking multi-functions with a smart LCD display which lets you adjust the desired cooking purpose flexibly and easily.
The version from the Emeril brand has earned trusted quality in the market, thanks to smart construction, chef-style design, and outstanding tech aiming to deliver delicious and healthy meals for us every day.
Easy to clean
Simple to use with smart LCD screen and rotary knobs
Including great accessories
Stainless steel housing, which is sturdy, highly heat- and corrosion-resistant
9 functions available for versatile cooking
How To Reheat Rotisserie Chicken In An Air Fryer?
You can add extra crispiness to the chicken skin by warming up the dish in an air fryer. In fact, this belongs to one of the best ways to revive the rotisserie chicken in its original heated-grocery glory. Here are the steps:
Set the temperature at 350°F
Take a rotisserie chicken out of its package and put it in your air fryer basket. Let it in there for around three or four minutes until the chicken is heated and crisp.
Remove the cooked chicken from the gadget.
Now, it's time to enjoy.
Air Fryer With Rotisserie FAQs
How Long To Cook Rotisserie Chicken In An Air Fryer?
One pound of rotisserie chicken calls for around 18-22 minutes to cook. Cooking a whole rotisserie chicken (approximately 3.5 pounds) by utilizing an air fryer can cost you around 60 minutes (maximums). Simply cover the chicken with an easy and quick spice rub, then set the heat at 350°F to cook.
How big of an air fryer do I need for a rotisserie?
For a whole chicken, you will need an air fryer with a capacity of at least 6 quarts. However, You need to check the manufacturer's recommendations before purchasing or using an air fryer for cooking a rotisserie.
Is a rotisserie air fryer worth it?
It depends on your cooking needs, preferences, and budget. If you enjoy cooking rotisserie-style foods, such as whole chicken, kebabs, or roasted vegetables, then a rotisserie air fryer can be a great investment. In addition, an air fryer is a great all-in-one appliance for small kitchens.
Is rotisserie chicken better than fried?
It depends on the specific ingredients, cooking method, and portion size. Also on personal preference and dietary needs. Cooking methods by roasting or air frying using less oil are often considered healthier.
What size air fryer to cook a whole chicken?
The size of the air fryer depends on the size of the chicken. You will need an air fryer with a capacity of at least 6 quarts to cook a small whole chicken (up to 3 pounds), and a capacity of 10 quarts or more for larger chickens (up to 5 pounds).