Having a family of four members, neither too big nor too small, can make cooking and preparing meals challenging. We bet you are constantly looking for an easy and quick method to make healthy and delicious dishes.
In this case, the role of an air fryer in a kitchen corner is indisputable. This well-designed kitchen appliance allows you to prepare fried and even baked foods with the lowest calories.
With this compact assistant, your foods will surely be crispy and offer unique flavors without a greasy taste. Yet, choosing the best air fryer for a family of 4 is always an uphill struggle.
This article discusses the seven best choices among the wide range of products available on the market. Follow us to see which suits your needs.
Top 7 Best Air Fryer For Family Of 4
Image

Product

Editor's Rating

Price

Our Pick

1

Ninja DZ201 Foodi 8 Quart 6-in-1 DualZone 2-Basket Air Fryer

2

COSORI Pro II Smart Air Fryer 5.8QT 12-in-1

3

Instant Pot Vortex Plus 10-Quart Air Fryer

4

Ninja SP201 Digital Air Fry Pro

5

Chefman 6.3 Quart Digital Air Fryer

6

Cuisinart TOA-60BKS Convection AirFryer Toaster Oven

7

Instant Pot Vortex Pro 10 Quart
Best Air Fryer For Family Of 4 Buyers Guide
The preferences vary among different families. However, here are some buying tips and considerations you should keep in mind to choose the most suitable product:
Size
Selecting the right air fryer's size involves considering various factors. The very first thing is the age of your family members. A family with one or two-year-old children doesn't require such a large product for a family with teenagers.
Plus, the size should also be decided on the members' appetites. The appetites for multiple kinds of foods are often predictable.
A large model will be a perfect choice if your family is a big fan of fried foods. Air fryers are often bulky and take up a lot of kitchen space. So another piece of advice is to pick the one designed for the top of the countertop. This way, your kitchen will have a tidier look.
Temperature
Smaller air fryers are not designed for frozen foods due to lower temperatures. Frozen meats or chicken wings often require heat of at least 400F. Thus, try some big models with high temperatures if you want to prepare these foods.
Wattage
Wattage is one of the most important considerations when choosing a fryer. How frustrating to use your fryer when there is not enough power or electricity!
You will surely waste your time in this scenario. Thus, a product with lower watt requirements is an ideal choice. It would be better to purchase a model requiring less electrical energy from a generator.
Let's choose a big cookware set if you want to cook outside on a tailgating or camping day.
Design
The fryer's interior should circulate the air well throughout the cooking areas. This way, the appliance can maintain the desired speed and heat, contributing to perfectly cooked dishes.
You should find the system's main part at the center point of the basket to see the whole design. Remove all parts from the plastic casing, and you will find an ingenious design with impressive and even distribution.
A large fryer doesn't always work as effectively as the smaller one due to its extra space. This is because this space will take more heating and time to share evenly.
Timer
Cooking is a delicate and fine process requiring a lot of effort and time. So high-quality kitchen appliances save you from an arduous task. And timers are an indispensable part of appliances such as ovens or fryers.
Timers prevent your meal or vegetables from being overcooked with unattractive burnt edges! Choose a model with loud alarms to notify the cooking time.
Ease Of Use
For those having little time around the kitchen, complicated controls and settings will drive them crazy. So don't challenge yourselves with such complex designs. Instead, let's opt for these requiring little time to get the hang of the instruction manual.
All the selection keys and buttons should be displayed clearly with markings to eliminate the guessing time. Temperature or timing adjustment buttons can be found easily on the control panel.
Accessories
Each fryer comes with a different set of accessories with extra items depending on the price. Oil pumps, splash guards, filters, and mitts are just a few. Some users also want bells and whistles like skimmers, cleaning tools, and thermometers.
If you don't have much time for cleaning, these extra accessories will do wonders. They save time while making your appliance long-lasting and avoiding pesky grease.
Cost
The amount of money we spend on this appliance depends on the size of the food preparation and the need to replace parts.
Make sure to purchase a budget-friendly yet quality appliance to serve you for a long period. There is no need to pour money into a too-big air fryer if you just use it every now and then.
#1. Ninja DZ201 Foodi – Best Overall
Specifications
Product dimensions: 13.86 x 15.63 x 12.4 inches
Item weight: 17.86 pounds
Capacity: 8 quarts
Voltage: 110 volts
Maximum temperature: 450°F
The Ninja DZ201 model is one of the best products on the market thanks to its reasonable price and versatility. At first sight, it immediately catches your attention with a smart finish and matches the cook.
The incorporated DualZone technology provides users with Smart Finish and a match Cook button. The former feature is designed with two cooking modes at the same time. This way, you can prepare various dishes at once.
The latter feature allows you to copy the settings across two zones for the full capacity. There should be no complaint about the wide range of functions.
The product has six functions: air broiling, baking, dehydrating, air frying, roasting, and reheating. These cooking functions will be well employed in two independent baskets.
They are superior to traditional single-basket products by eliminating back-to-back cooking. The air fryer is spacious enough to prepare meals for a family with four adults.
The rapid heaters, 8-quart zones, and cyclonic fans make the cooking process the easiest. When it comes to cleaning, the product is a breeze to wash and dishwasher-safe.
The only complaint about this product is its noisy operation, which is frustrating sometimes.
Versatile functions
Reasonable priced
Spacious for large families
Saves cooking time
#2. COSORI Pro II Smart Air Fryer 5.8QT 12-in-1 – Best For Versatility
Specifications
Dimensions: 11.8″D x 13.8″W x 12.6″H
Temperature Range: 170-400°F / 77-204°C
Weight: 12.3 lb / 5.6 kg
Model number: CS358-AF
Voltage: 120 Volts
Wattage: 1700 watts
Control Method: Voice
Controller: Vera, Google Assistant, Amazon Alexa
Has Nonstick Coating: Yes
Is Dishwasher Safe: Yes
It is not hard to come across a COSORI smart air fryer with great reviews on most online shopping platforms. You can only experience this product's impressive performance and versatility when you use it.
The product is designed for up to 12 cooking modes, supporting users to deal with anything from frozen ingredients to raw foods and veggies. You will surely appreciate these multiple functions if you are not good at cooking.
All you have to do is to press the buttons and let the device do its job – a truly set-it-and-forget-it gadget. Chicken, steak, shrimp, seafood, bacon, root vegetables, and desserts will be made in no time.
Don't be surprised to work with a reasonable yet advanced kitchen appliance. This product comes with a recipe book with more than 200 recipes.
Plus, have your hand busy preparing ingredients? Connect your smartphone to the fryer and use the third-party voice assistant. This way, you can control the cooking process hands-free.
You will also spend a whale of a time with your friends or family in the living room! Vesync App can power COROSI Smart products. It offers you total control over your phone with Google Assistance and Alexa.
Thanks to it, you will receive any cooking notifications from the app and get golden and crispy results. Despite these impressive features, we wish the air fryer could be a tad larger to meet the needs of our four-adult family when we want to throw a small party.
Lightweight yet sturdy
Versatile with 12 cooking functions
Dishwasher-safe
Advanced features
Smaller than other products
#3. Instant Pot Vortex Plus – The Largest Capacity
Specifications
Product dimensions: 13.23 x 13.23 x 14.37 inches
Item weight: 19 pounds
Capacity: 10 quarts
Voltage: 110 volts
Temperature settings: 95°F – 400°F
Instant Pot Vortex Plus will be an ideal choice if 4 members of your family are all healthy eaters. The product offers a 10-quart basket to fit the most hungry appetites.
Despite the large space, this device offers fast preheating to reduce cooking time. With temperatures ranging from 95 to 400 degrees Fahrenheit, you can prepare meals in just a few minutes.
The EvenCrisp technology allows the airflow to circulate evenly and top-down to offer perfectly golden, crispy, and tender results. This top heat element is also an impressive rotisserie feature. It works with the fan for optimal self-basting and tumble-frying.
The one-touch control panel makes it easy to use the appliance. You can choose six customizable programs to make a full meal. Your children will surely love the taste of garlicky potatoes, rotisserie-style chicken, and cookie buns!
However, the initial taste of the device can be annoying at first. So clean it thoroughly before use.
Multiple functions
Large capacity
User-friendly control panel
Comes with extra accessories
#4. Ninja SP201 Digital Air Fryer Pro – Best For Compact Design
Specifications
Product dimensions: 15.33 x 20.21 x 8.15 inches
Item weight: 21.1 pounds
Capacity: XL family size
Voltage: 120 volts
Maximum temperature: 450°F
A space-saving, thoughtfully-designed air fryer breathes new life into your kitchen corner. And that's what the Ninja SP201 digital product offers.
This kitchen appliance takes up 45% less space by allowing users to flip up and store it against the kitchen backsplash. The build not only saves you from storing headaches but keeps your kitchen neat all the time.
The compact design doesn't necessarily affect the overall performance. This best air fryer for 4-person consumption can roast up to 4 lbs of ingredients and can bake a 13-inch pizza!
All the ingredients can be treated with 75% less fat, which is ideal for those on a diet. There are also eight functions incorporated into this device. Use these functions with the digital crisp control technology to optimize cooking performance.
Heat source, precision-controlled temperature, and airflow will make the process much more enjoyable! Yet, the product is not quite budget-friendly.
Well-designed to save space
Versatile with 8 settings and large capacity
Easy to use
#5. Chefman 6.3 Quart Digital Air Fryer – Best For Tight Budgets
Specifications
Product dimensions: 10.5 x 11 x 14.75 inches
Item weight: 13 pounds
Capacity: 6.3 quarts
Voltage: 120 volts
Temperature settings: 90-400°F
Chefman digital air fryer is the top choice for those on a tight budget. Despite the low price, the product promises the same functions and performance as other models.
Five cooking modes are well controlled and used with the user-friendly digital touch screen. Here, you can touch eight presets to activate all the cooking functions.
The internal capacity is also large enough to cook food for a large family. There is also interior lighting so that you can watch your food easily.
All the parts are dishwasher-safe, saving you from the cleaning headache. The problem is the product takes up a lot of space.
Budget-friendly
Multi-functional
Convenient accessories
Can cook large food
#6. Cuisinart TOA-60BKS – Best Convenience
Specifications
Product dimensions: 15.5 x 14 x 16 inches
Item weight: 21 pounds
Capacity: Enough for a 4-pound chicken
Voltage: 110 volts
Maximum temperature: 450°F
Cuisinart TOA-60BKS is one of the best Cuisinart air fryers on the market regarding its convenience. Running at 1800 wattage, this device offers an adjustable timer thermostat and a 60-minute timer to keep your foods cooked perfectly. Not to mention, you can bake, toast, broil, or reheat food with ease, as all these settings are integrated.
Don't worry, these functions will sacrifice other factors. In terms of capacity, you can even bake a big 12-inch pizza, toast a chicken of 4 pounds, and air fry 3 pounds of chicken wings. That's more than enough for your 4-member fam squad.
Various essential parts are included: rack, basket, oven light, oven rack, and a nonstick interior. Thanks to them, you don't have to worry about cleaning. Yet, the product is quite heavy, which is not easy to transport.
Beautiful design as a gift
Superior convenience with an auto timer
Easy to clean
Great flavor
#7. Instant Pot Vortex Pro 10 Quart – Best For Parties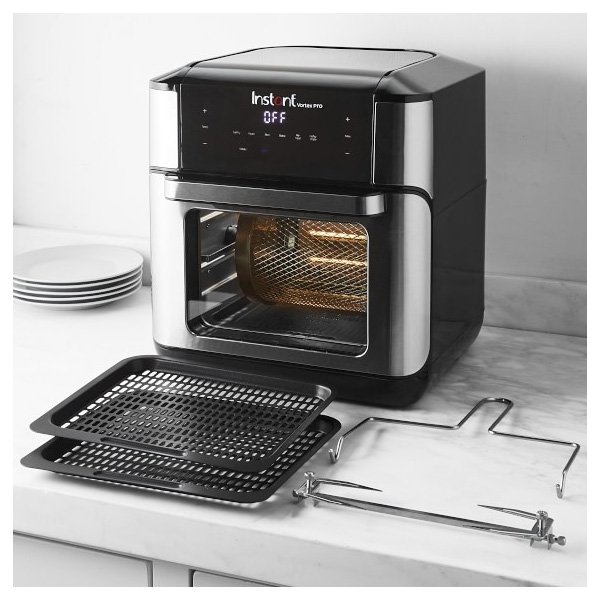 Specifications
Product dimensions: 13.75 x 14.37 x 13.23 inches
Item weight: 17.5 pounds
Capacity: 10 quarts
Voltage: 110 volts
Temperature settings: 90-400°F
Plan to have a big birthday party? Instant Pot Vortex Pro 10-quart appliance will make your night party in full swing with the best dishes. With the 10-quart capacity, the cooker allows you to fit various cooking trays to make multiple meals at once.
A perfect golden and crispy dish of chicken, tender meats, and cookies are just a few to name! Despite this large capacity, there should be no difficulty in cleaning it after use.
When purchasing this model, you will get extra accessories without further costs. All those parts, including cooking trays, spit, forks, baskets, and screws, can be taken apart for cleaning and are all dishwasher-safe. Don't worry about a mess left behind after a party!
Like other Vortex products, this one initially gives off an unpleasant burn-off. Thus, don't forget to wash it before use.
Large capacity
Easy to clean
Nine cooking functions
Strong stainless steel build
Conclusion
Choosing the best air fryer for a family of 4 is challenging. Yet, following the instructions above will save you from this shopping headache.
Among the seven recommendations, Ninja DZ201 Foodi is undoubtedly worth your investment, thanks to its reasonable price and impressive features.