The introduction of air fryer ovens has flooded the household equipment market because of their great functions. Among the thousands of air fryer ovens on the market, Ninja SP301 and Ninja SP351 are prominent products, significantly gaining customers' attention. 
However, both the Ninja models share many common features which may overwhelm customers. Honestly, it's nearly impossible for almost every buyer to tell the Ninja SP351 vs SP301 apart without having insights into their functions and designs.
For this reason, the detailed comparison below will help you to make an appropriate choice for your kitchen corner. Now, let's take a quick look at the comparison chart of the two ovens.
Ninja SP351 vs SP301 Comparison Chart
Ninja SP351
Ninja SP301
Dimensions
Both the air fryers ovens share the dimensions of 15.33 x 20.21 x 8.15 inches
Material
Stainless steel
Plastic
Weight
Both the Ninja air fryer ovens weigh 21.5 lbs
Color Variants
Black or Silver
Wattage and Voltage
1800 watts and 120 voltages
Cooking Modes
You can opt for 13 cooking functions on the SP351 and SP301 ovens: Reheat, Frozen Pizza, Fresh Pizza, Air Fry, Dehydrate, Griddle, Air Roast, Rapid Bake, Sear Crisp, Toast, Bagel, Bake, and Broil.
Thermometer
Smart Thermometer
Normal Thermometer
Preheat
60 seconds
Maximum Temperature
The Ninja SP301 and Ninja SP351's temperature limits are 500 degrees Fahrenheit.
Control Panel
Both the ovens will give you information and allow control via the Touch-screen Digital Display and the Dial
Light
Interior Lights are equipped in both models.
Interior
A nonstick interior is available on these two models
Included Accessories
Smart Thermometer, Removable crumb tray, Air fry basket, Wire rack, nonstick sear plate
All of the accessories applied for the SP351 except for the Smart Thermometer
PFOA and PTFE
None
Capacity
The space for cooking inside the air fryer ovens is similar. You can cook a 12-inch pizza, 6 chicken breasts, roast 2 lb, and airy fry 4 lb of ingredients.
Price
Check Latest Price
Check Latest Price
According to the charts, you can somehow see that there are many similar features in the Ninja SP351 and SP301 air fryer ovens. Yet, a closer look reveals some important different points.
Related article: Ninja SP101 vs SP201 vs SP301 Comparison
The Main Difference Between Ninja SP351 Vs SP301
Design and Appearance
The Ninja SP351 and SP301 share a square-shaped and compact design, making them neatly organized in any kitchen corner.
At first glance, you may assume both models are made of stainless steel, but it's not. The Ninja SP301 is made from plastic with a steel-like appearance, whereas the manufacturer uses stainless steel to manufacture the SP351.
As a result, the Ninja SP351 will bring a vibe of a high-end air fryer oven into your kitchen with a stainless outlook. That is not to mention stainless steel is way more sturdy and easier to clean than plastic.
If you are looking for an air fryer oven that can serve you delectable dishes and be a decent decoration for your kitchen, the SP351 can be a suitable choice. The shiny brushed stainless steel outlook will bring a sense of luxury to your kitchen.
The control panels of both the Ninja SP351 and SP301 are relatively the same, displaying 13 cooking options for instant food processing.
The only difference in the control panel layout, as well as the considerable distinction in features of the two ovens, is the "Smart Cook System" section on the SP351.
All the tasks you have to do is to marinate the ingredients, place them inside the oven, and push a button with the desired function. Therefore, processing dishes can't be faster and more convenient with both models.
Cooking Function and Versatility
13 identical cooking functions are applied on the two Ninja air fryer ovens. And they are all listed in the comparison chart above, with the obvious names representing what the ovens can do.
Both come with dual-heat tech (heated sear plate and cyclonic air) that enables home cooks to sear the food and make it crisp at once.
Opting for these two air fryers is also optimal for people seeking healthy meals. According to scientific reports, the amount of fat in an air-fried dish is 75% less than that in a traditional-fried dish.
The sole feature that makes the SP351 surpass the SP301 is the Smart Cook System, aka the Smart Thermometer. Thanks to this smart tech, you can just set it and forget it during the food processing of the Ninja SP351. Therefore, the SP351 can assure you of restaurant-quality dishes.
No matter how inexperienced a cook you are, you can prepare appetizing meals with the Smart Thermometer function, which removes all the guesswork. The Smart Thermometer can be at its finest usefulness when a dish demands precise temperature or large pieces of meat.
Capacity And Size
The capacity of the SP351 and SP301 is 4 pounds, so cooking a tasty meal for a family of 4 or 5 people is not a concern to both models.
The large capacity is adequate for users to cook multiple ingredients without wasting time on taking the ingredients in and out.
Despite the large capacity, the size of these air fryer ovens is only 15.33D x 20.21W x 8.15H inches. They won't take up much of the space in your kitchen while guaranteeing a spacious inner side for cooking.
Accessories
The Smart Thermometer is an accessory the Ninja SP351 offers but is not included in the package of the Ninja SP301. Apart from this difference, both ovens consist of the same accessories, including a basket, sear plate (nonstick), crumb tray (removal), and wire rack.
Price
You can purchase the Ninja SP301 at a lower price than its sibling. On the other hand, if you fancy an air fryer oven with a Smart Thermometer, prepare to pay more to have the Ninja SP351 in your kitchen.
Ninja SP351 Round-Up
The Ninja SP351 is a versatile product that assists newbies in the kitchen in preparing delectable dishes thanks to the Smart Cook System.
Pros
Prominent Smart Cook System with Smart Thermometer for hassle-free cooking
13 pre-set functions for convenient use
Noteworthy decoration for your kitchen
Dual Heat Technology to save time
Spacious capacity for a large meal
Durable stainless steel construction
Con
The price should be more reasonable
Ninja SP301 Round-Up
The Ninja SP301 can be considered a lite version of the Ninja SP351 for those who don't care much about the 100% accurate temperature of the food or are on a budget.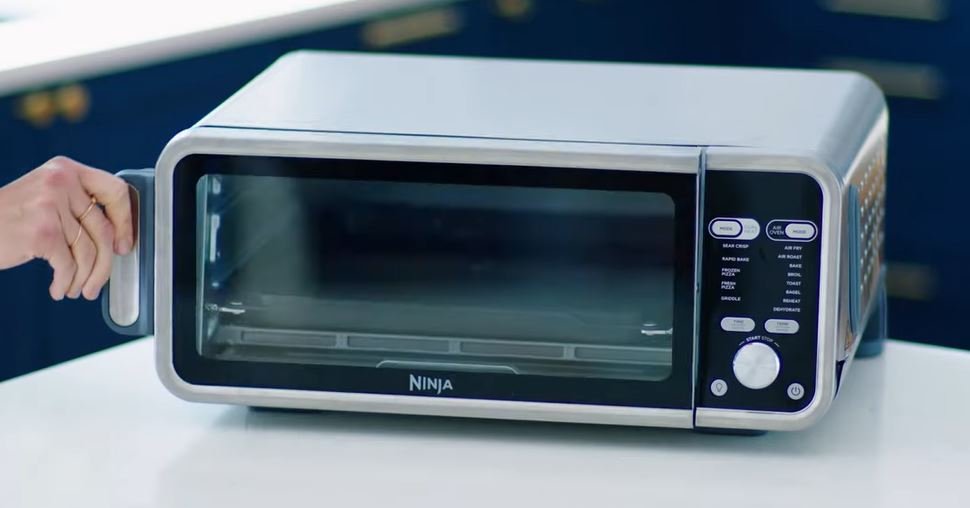 Pros
13 available cooking functions
A decent choice for people who first start using an air fryer oven
Reduce fat portions in fried dishes
Sensible design fitting kitchen corner
Ideal for cooking large quantities of food
Con
Plastic material results in a cheap outlook
Bottom Lines
The showcase of Ninja SP351 vs SP301 is a detailed guide you can rely on to pick the most suitable item for your kitchen. Briefly, Ninja SP351 is an upgraded version of the SP301 with the Smart Cook System.
Based on the nearly identical features of the two Ninja air fryer ovens, the decisive factor that persuades you to choose one from them is your cooking experience. So, which product are you going to bring home?