An electric pressure cooker is a right-hand man for any home cook, especially if you have to feed a hungry fame squad and optimize the nutrition in every meal.
Among the ocean of products, many users trust reputable pressure cooker brands like Ninja. Particularly, many housewives are confused about which one is better Ninja OL601 vs OL701.
Don't think twice! Read our comparison to see how the goods differ in capacity, functions, and other special qualities!
The Difference Between Ninja OL601 and OL701
We cannot dispute the similarities between the two pressure cookers, including their appearance in discreet black and silver finishes. Plus, the employment of a non-stick coating keeps food from adhering to the cooking surface.
Since both of them offer the same programs and features, novice cooks will find the cooking procedure simpler. The 8-quart size of each automated pressure cooker makes it simple to serve a big household.
Similarities aside, below are some points setting them apart.
Display
The Ninja OL701 has an exterior temp probe showing the settings and internal heat. With this function, you can ensure that the correct interior food temperatures are attained and maintained, lowering your chance of getting a foodborne illness.
When cooking, reheating, cooling, defrosting, or maintaining meals hot or cold, you may monitor the interior temperatures of the item.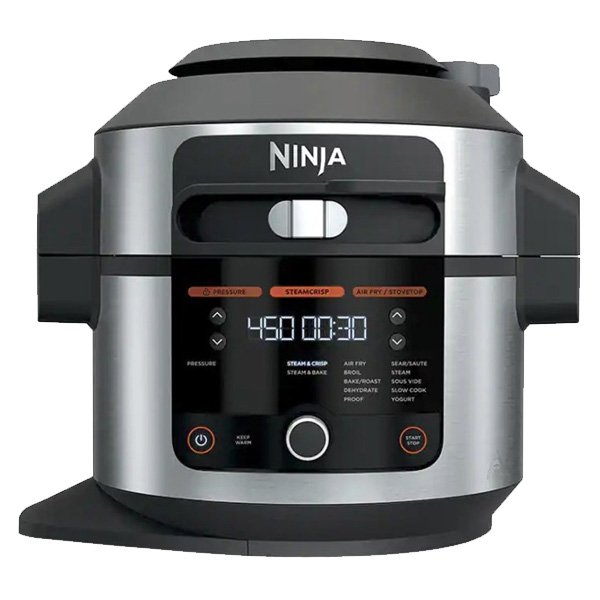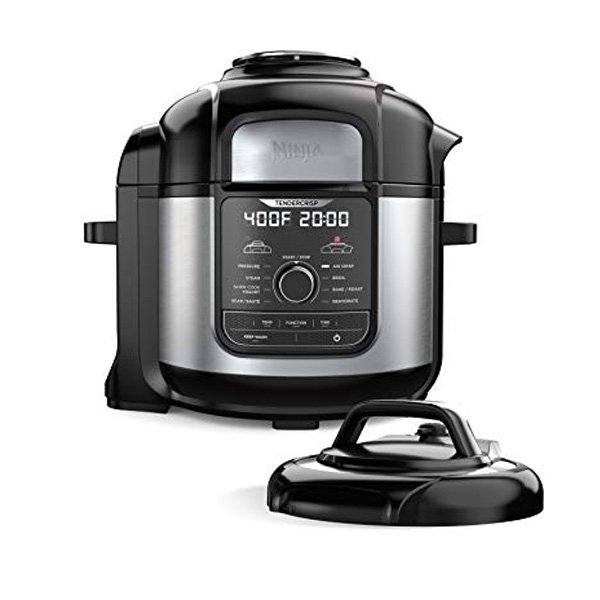 On the other hand, the Ninja OL601 merely displays the goal temperature and time on the right-hand side of the display screen as with other standard fryer pressure cookers on the market. Hence, this may come off as a disadvantage.
If you look closely, you recognize that every setting on the Ninja OL701 has a specific button with a clear notice for its purpose. That is helpful for first-time pressure cooker users. In contrast, its counterpart doesn't have such convenience.
Pressure Release
The OL701 has three pressure release controls: a natural release, a rapid release, and a timer, whereas the OL601 has just one natural release.
Surprisingly, the OL701 features a rapid release that takes a minute or two, saving time for busy individuals. This technique is useful for adding extra ingredients to the pressure cooker or checking the food's doneness, as you might make a stew recipe.
The OL701 will be a better option if the pressure release is often adjusted.
Safety
The Ninja OL701 upgrade quick release is effective and practical. However, a loud blast of steam is discharged from the valve and could be hazardous for users.
That is because the valve must be turned, lifted, or pressed after active cooking is finished when utilizing a quick release. You can watch the video to learn about how to use the quick-release function in a pressure cooker. 
When you use the Ninja OL601 with only a natural release, we consider this product to be safer than the Ninja OL701. Using this approach, you don't need to do anything to depressurize your pressure cooker.
When the electric pressure cooker has done cooking, the pressure will naturally begin to decrease progressively. By doing so, you may prevent the water vapor coming off the valve from burning your hands.
Smart Cook System
The fact that the OL701 has a smart cooking system installed is one quality that we find admirable. This is another aspect where the OL701 pressure cooker excels, and neither the OL601 nor any other appliance can compete.
With each program, this function enables the actual advantages of pressure-cooking to produce the ideal dish. You can achieve optimal doneness from rare to well done using nine adjustable doneness levels and four smart protein adjustments.
Additionally, smart cooking utilizes the lid to cook food more quickly while maintaining the overall flavor.
Price Range
In terms of features, the Ninja Foodi OL701 triumphs in this competition since more available model options exist. But due to its lower cost, you might wish to go with the Ninja Foodi OL601.
Ninja OL701 vs OL601 Comparison Chart
| | | |
| --- | --- | --- |
| Product | Ninja OL601 Foodi 14-in-1 XL 8 Qt. | Ninja OL701 Foodi 14-in-1 SMART XL 8 Qt |
| Color | Black and Silver | Black and Silver |
| Image | | |
| Capacity | 8 quarts | 8 quarts |
| Material | Plastic and stainless steel | Plastic and stainless steel |
| Total Layers | 3-layer capacity | 3-layer capacity |
| Programs | 14 programs(Pressure Cook, Air fry, Steam and Bake, Steam and Crisp, Dehydrate, Broil, Roast or Bake, Sautés or Sear, Steam, Slow Cook, Sous Vide, Proof, Yogurt, and Keep Warm. | 14 programs(Pressure Cook, Air fry, Steam and Bake, Steam and Crisp, Dehydrate, Broil, Roast or Bake, Sautés or Sear, Steam, Slow Cook, Sous Vide, Proof, Yogurt, and Keep Warm. |
| Ceramic Coating | Non-stick coating | Non-stick coating |
| Power | 1760 watts | 1760 watts |
| Recipes | 45 | 45 |
| Controls | buttons and dial | buttons and dial |
| Cord Length | 36 inches | 36 inches |
| Dimensions (WxDxH) | 15.39 x 14.21 x 14.25 inches | 15.39 x 14.21 x 14.25 inches |
| Dishwasher Safe | Yes | Yes |
| Smart Cook System | No | Yes |
| Auto-stay warm | Yes | Yes |
| Weight | 25.1 pounds | 25.6 pounds |
| Pressure Release | only one option (natural release system) | three up-grade options(natural, rapid and timer system) |
| Price | Lower cost | Higher cost |
Conclusion
The Ninja OL601 vs OL701 models are excellent pressure cooker and air fryer combos. From our perspective, the Ninja OL70 is the item that impresses us more due to its flawless performance, useful features, durability, and contemporary appearance.
It will also be appropriate for individuals looking for a practical tool to make cooking easier. Although this item is quite expensive, it is well worth the extra cost to get a high-quality alternative. It's value for your investment, we wager!