The common question with air fryer beginners is Can I put parchment paper in an air fryer? Our answer is Yes, you can.
In fact, Parchment paper is one of the important accessories for an air fryer. You will need them for a lot of recipes, especially for baking or roasting. They keep food from sticking to the basket when cooking and make it easier to clean the air fryer.
What is parchment paper?
Parchment paper is grease-proof paper, has good heat resistance, and does not produce smoke while baking or roasting process, so it is often used in baking and cooking.
Can you use parchment paper in an air fryer?
Yes, You can. The special processing makes parchment paper a sulfide cross-linked material with high density, stability, heat resistance, grease resistance, and water resistance (Wikipedia). Most parchment papers are oven safe up to 420 degrees F (check the packaging).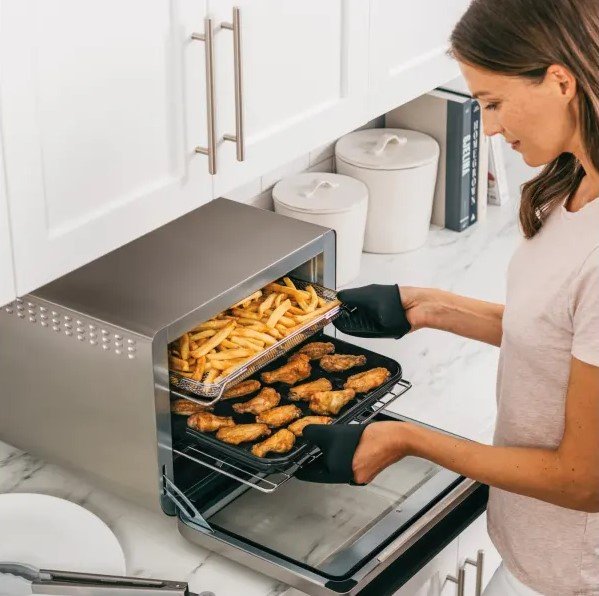 How to use parchment paper in an air fryer?
First, preheat your air fryer, then spread parchment paper down the basket before placing the food on it.
Why use parchment paper in an air fryer?
The biggest benefit you get is that the food won stick to the basket. For example, flour when baking cakes or sauces, grease when you marinate chicken wings, chicken nuggets, meat, and other foods. You can easily clean the air fryer.
Is parchment paper the same as baking paper?
Yes, it is. Parchment paper is also known as Baking paper or bakery paper
Tips and Notes
Check the maximum cooking temperature and important information printed on the packaging. Please do the right recommended by the manufacturer.
Waxed paper (also wax paper or paraffin paper) is not Parchment paper but Baking paper or bakery paper is right.
Use parchment paper that matches the size of your air fryer. If you are using paper that is too large, fold or cut off the excess.
Do not place parchment on top of food while cooking. They may come into contact with the heating element causing a fire.
Where to buy parchment paper?
You can buy them at grocers, convenience stores, and supermarkets. If you just want to stay at home and receive your goods right at your door, you can order them right on Amazon.