Cuisinart is an American brand founded in 1971 which provides popular air fryer ovens. The dominant options in this category are the Cuisinart TOA 60 vs TOA 70 versions. This writing is for you if you are looking for a comprehensive Cuisinart TOA-60 and TOA-70 comparison.
In general, TOA-60 is a suitable device for home cooks with simple requirements on a daily basis. It also deserves your investment in case you value a lighter oven.
Meanwhile, TOA-70 is an ideal assistant in your kitchen when it comes to more complicated grilled dishes. At the same size, this version of the air fryer oven from Cuisinart provides more methods to process your food.
What Is The Difference Between Cuisinart TOA-60 vs TOA-70?
Differences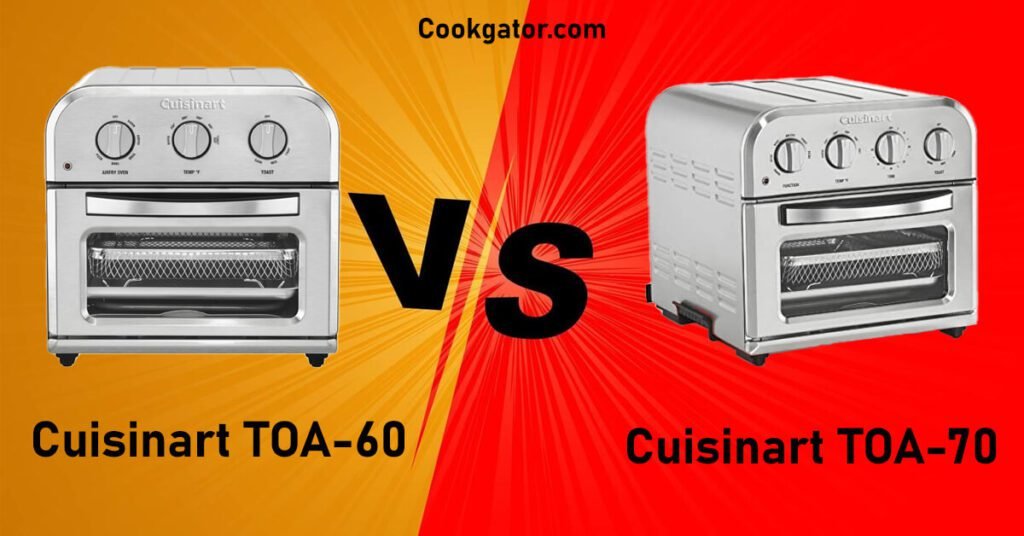 Functions
While the Cuisinart TOA-60 has seven functions, the TOA-70 is equipped with eight modes, which is the grill feature.
The users can take advantage of this function to cook more dishes with no requirement for a great amount of butter or oil.
You can enjoy a more diversified menu with steak, burgers, fish, and even vegetables. Furthermore, you can serve French toast, breakfast meats, hash browns, and quesadillas by combining this function with the reversible grill or griddle plate.
Thanks to this feature, Cuisinart TOA-70 is useful for your healthy eating habit or diet recipes and prevents the risk of excess fat.
Design
Both Cuisinart TOA 60 and TOA 70 are made from stainless steel. This material provides great durability, a good look, and convenience in cleaning.
However, the TOA 60 version is lighter than the TOA 70 version (21 lbs vs 23.1 lbs), while they have the same dimensions. So it would be a breeze to transport the 60 model, for example when you want to bring it outside for a family party or picnic.
With more functions offered, and similar space required, Cuisinart TOA 70 is considered to be the winner in this combat. This result is reasonable as it is the later edition of this brand, which has been optimized from the early models like TOA 60.
Similarities
Besides two typical differences to compare TOA 60 vs TOA 70, other features of these two are almost the same.
Type: Both TOA 60 and 70 are convection toasters that can handle roasting, baking, and so on. They are more versatile than other large ovens, but require only half of the power to function.
Capacity: With the capacity of 18-quart, these products are considered to be an ideal choice for preparing daily meals for three to five members.
Coating: There are non-stick and ceramic coatings used in the interior designs and some accessories of Cuisinart TOA 60 and TOA 70.
As a result, your food will be protected, and the ovens will last longer thanks to the BPA/toxin-free and eco-friendly materials.
Interior Light: This popular feature in ovens allows you to monitor the cooking process of your food without the effect of the heat.
Interface: Both devices have the same analog control panel, including the power button and four other dials to control the time, temperature, toast shade selector, and function.
Power Usage: The ovens from Cuisinart are equipped with heating coils drawing the power of around 1800 watts.
Timer And Temperature Control: The TOA 70 and 60 ovens have an automatically 60-minute timer. Meanwhile, there are built-in controllers of temperature, offering a maximum of 450°F.
Comparison Chart Of Cuisinart TOA 60 vs TOA 70
| | | |
| --- | --- | --- |
| Item | Winner | Runner-up |
| Model name | Cuisinart TOA 70 | Cuisinart TOA 60 |
| Color | Silver | Silver |
| Material | Stainless steel | Stainless steel |
| Frequency | 60 Hz, AC | 60 Hz, AC |
| Input Voltage | 120 V | 120 V |
| Timer | 60 Minutes | 60 Minutes |
| Auto Shut Off | Available | Available |
| Functions | Convection broil, Broil, Bake, Convection bake, Air Fry, Toast, Warm, and Grill | Convection broil, Broil, Bake, Convection bake, Air Fry, Toast, and Warm |
| Adjustable Thermostat | Available | Available |
| Weight | 23.1 lbs | 21 lbs |
| Dimensions (LxWxH) | 15.50 x 16.00 x 14.00 inches | 15.50 x 16.00 x 14.00 inches |
| Temperature range | Adjustable (up to 450 degrees F) | 80°F to 450°F |
| Price | Check Latest Price | Check Latest Price |
Quick Rundown Of Cuisinart TOA-70
Pros
Perfect timer and automatic shutoff available.
Eight functions are offered.
Saving power.
Coated by stainless steel with high quality.
Quick Rundown Of TOA-60
Pros
Equipped with a smart air fryer.
The thermostat is adjustable.
Ideal cooking capacity.
Cons
No Grill function is offered.
Conclusion
There are not many differences between the two products of the air fryer oven category from Cuisinart to mention. Both versions 60 and 70 are ideally designed and equipped with superior functions, the majority of which are similar.
However, in the battle of Cuisinart TOA-60 vs TOA-70, the latter seems to outweigh the other slightly.
I call the name TOA-70 the winner, as it retains the effective features of the TOA-60. With the same requirement for space, the Grill function in this device makes it more versatile. At the same time, the cooking process and experience of the user will be level-up.