Recently, furnishing an air fryer oven is no longer an unusual concept in most kitchens. More and more types of these appliances come to the current competitive market to meet customers' diversified needs.
Catching the trend, we're here to lend you a Cuisinart TOA-70 review, which belongs to one of the hot discussions about household kitchen appliances.
So, is this unit worth you're spending? Stopping by our article today might put an end to your interest.
This content will pass through two key parts of the air-fried oven from a well-known brand. Read now on.
Cuisinart TOA-70 air fryer toaster oven with grill review
Specifications
Item Dimensions: 12.25″D x 15.75″W x 13.75″H
Capacity (Volume): 0.6 Cubic Feet (18 Quarts)
Item Weight: 23.14 Pounds
Included Components: Oven rack, baking pan, air fryer rack/basket, and grill
Holds up: 6 slices of bread, air fry 3 pounds of chicken wings, bake a 12-inch pizza, or roast a 4-pound chicken.
Wattage: 1800 Watts
Cleaning and Care: Dishwasher-Safe Sections; Wipe Clean or Spot.
Warranty: 3-years.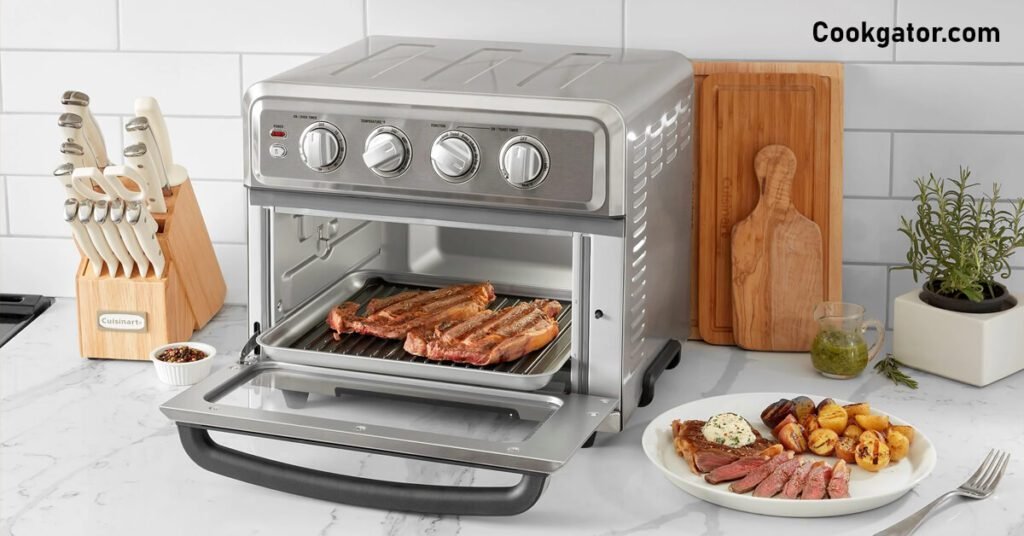 Features
Equipped with 8-in-1 cooking functions including convection bake, air fry, bake, convection broil, broil, toast, grill, and warm.
Come with adjustable temperature (from 80°F to 450°F)
Nonstick, simple-clean interior
Super quiet operation
Toast selector timer
Auto Shut-off and Interior Light
An hour Timer
BPA-free material
Cuisinart TOA-70 Pros and Cons
Whisper-silent operation
Comes with all the essential accessories
You can pick the set of cooking intensity
Safe material
Great for small places
It might not be as large as a few of the outdoor grills.
Slightly pricey
Cuisinart air fryer TOA-70 Buying Guide
Design
The model reaches 12.25″D x 15.75″W x 13.75″H in terms of dimensions fitting a small space or some limited countertop kitchen.
In addition, this Cuisinart TOA-70 comes in a sleek design and silver color, which isn't hard to make your kitchen more prominent in your house.
The stainless steel construction also promises that it display any rust and extend its useful life.
Cooking Functions
The TOA-70 air fryer has become the signature of the Cuisinart brand in the current market. Besides warming your leftovers up, baking cookies, or air-frying french fries, now you may do more delicious and healthier dishes with the Cuisinart TOA-70 Air Fryer Oven with Grill!
The unit allows you to griddle your breakfast on one side and sear vegetables or steaks on the other with the twin-sided griddle plate and grill.
Your cooking becomes simpler, faster, and more fun than ever, thanks to an array of excellent functions from the Cuisinart unit.
The product is designed to easily reach the endless functions that become dominant over other versions.
In particular, this machine can adapt to your use with various cooking methods. It has taken up the post of different appliances, from defrost, warming feature, reheat, bagel, roast, pizza, grill, convection broil, to convection bake.
Also, the dual cook and low/high convection speed options range in a wide temperature variety (from 80°F to 450°F).
Capacity
The manufacturer offers a large enough volume for this model to bake a pizza of 12 inches, toast bread of 6 slices, roast a chicken of 4 pounds, or air fry chicken wings of 3 pounds.
The capacity permits you to prepare meals well for big families of 4-5 people at once.
Accessories and Warranty
When you purchase the product from the Cuisinart brand, you will get a set of essentials: a grill, air fryer basket/ rack, baking pan, oven rack, oven light, and even a nonstick simple-clean interior aiming for making mess cleanup easy.
We are willing to give a major plus point to the item regarding its guarantee. You will receive an outstanding warranty for three years.
If you have any trouble during the installation and use process, please get in touch with the manufacturer's service customer to get the instruction within 24 hours.
Other Features
The Cuisinart version brings superior operation to you thanks to an adjustable thermostat or timer.
The regulator has an auto-shut-off/ 60 minutes timer and a roast selector clock to ensure your dishes are properly cooked to perfection.
There is one point to note before picking the cooking appliance. The unit with electric plugs is engineered for utilization in the United States.
Voltage and outlets differ on an international scale, and this item might require a converter or adapter for utilization in your place. So don't forget to check power compatibility before buying.
Once you own the Cuisinart air fryer oven, there would be no need to spend time messing with some grill that costs so long to commence and carefully do for some good results.
With the item at hand, it isn't hard for you to enjoy almost, if not all, your favorite cooking recipes without worrying about the challenges of cleaning or installing things.
Shortcomings
Some users left some complaints about its electric switches and longevity. However, a lot of cooks confidently share that its advantages dominate its drawbacks. If your kitchen isn't big, and you are a big fan of grilled foods.
Also, the price is also one of the deal-breakers for some. If you are in the same boat, let's take a look at its sibling – Cuisinart TOA-60 for a more affordable investment.
Check out the difference between Cuisinart TOA-60 and TOA-70 for more details!
In The Nutshell
Once your concentration still stays on our final words, we confidently suppose that our Cuisinart TOA-70 review partly untangled your curiosity earlier.
From now on, you completely make up your mind whether you should choose this kitchen appliance or not.
The item can take charge of various tasks while still keeping the food's taste and freshness. The capacity is pretty generous for a family of 4-5 people, and its compactness will surely fit into any kitchen countertop.
If you suppose our article is handy, don't skip sharing it with others who have the same interest in the Cuisinart air fryer toaster oven with grill as you did before.
This is also a wise motivation for us to create more practical content for you in the coming days.