Pizza rolls taste best when you fry them. Just imagine the frozen pizza rolls with its crispy rolls melting in your mouth and lingering with some flavor until you try the next one. If your mouth is watering, why don't you try out the recipe? Totinos's pizza rolls air fryer is available on the menu!
What is Pizza Rolls?
The pizza rolls first appeared in 196 in Duluth, Minnesota by entrepreneur Jeno Paulucci, who specialized in canned and frozen Chinese food. And now, they are among the popular snacks of every American.
Pizza rolls (also called Pizza snack rolls, pizza bites, pizza snacks, or pizza poppers) are frozen food of bite-sized breaded pizza pockets with an interior of tomato sauce, cheese, and various pizza toppings. (Wikipedia)
People often cook pizza rolls in the microwave or oven. However, putting pizza rolls in an air fryer is on another level. It is as quick as microwaving, yet it makes wonderfully crispy pizza rolls just like an oven does.
These days, pizza rolls are very popular since they bring us a wonderful grab-and-go meal. Some people also pack them in a lunchbox. Another benefit is that you can serve air fryer pizza rolls quickly and easily. Such a convenient dish!
Totino's Pizza Rolls Air Fryer
Ingredients
This dish, especially the Totino's Pizza Rolls, is popular among foodies because it allows them to stuff it with whatever they want. Pizza sauce, pepperoni, cheese, and ham are some preferable fillings. Or, if you are a veggie fan, onions, peppers, and even spinach can suffice.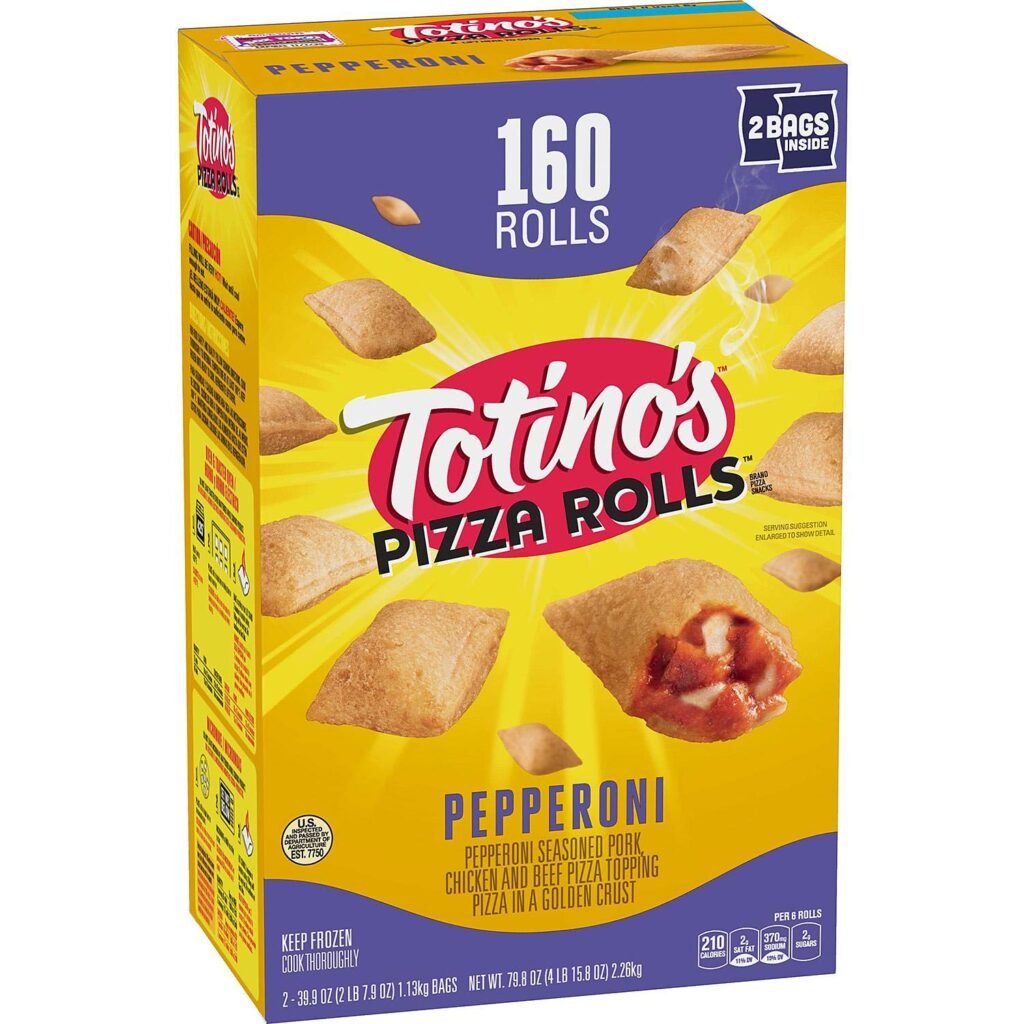 Pizza Rolls Cooking Times
Timing is one of the most important factors that determine whether your rolls are well done or not. So, how long to cook pizza rolls in the air fryer?
It often takes about five to eight minutes to cook the pizza rolls. Why don't we have the exact time? Well, it depends on other features too. The quality of the air fryer, the size of the rolls, and the fillings can also affect the frying time. When the rolls turn golden brown, they are crispy and done.
What temperature do I put pizza rolls in the air fryer?
In most cases, the air fryer does not require as much heat as an oven, so don't equate the two devices. 
If you do not want to overcook, please pay attention to the temperature.
It would help if you aired fry pizza rolls at 380°F  (190°C). This heat will guarantee that the fillings are well-cooked while the exterior remains crisp.
How to Make Pizza Rolls Air Fryer?
We have just looked at some essential criteria for pizza rolls in the air fryer. And this is probably the part you are most looking forward to, cooking pizza rolls in an air fryer.
Step 1: Roll the pizza
Let's start by placing the diamond dough on the board. Add meat, sausage, pizza sauce, ham, or veggies after that. Try all the fillings that are your favorites, too. Don't forget to finish with the shredded cheese.
Then, fold the left and right corners edges in half and tape them together using water. This is the most crucial stage. If you are not careful enough, the fillings will spill out when frying.
Some foodies may wonder how to make pizza rolls in the air fryer extra crispy. This is quite simple! Just spray them with a little olive oil before putting them in the fryer. We bet that your cuisine will be super crispy.
Step 2: Preheat the air fryer
This step is optional since some fryers do not require you to do that. However, other experts say that you may have a superior meal if the device is adequately prepared.
For a dish with a short cooking time like pizza rolls, heating the fryers first at 400°F can help a lot.
Step 3: Place pizza rolls in the air fryer
Before placing the rolls, you should put the parchment paper at the bottom of the basket to prevent your food from sticking.
Next, set the air fryer to the appropriate temperature at 350°F and wait for about five to eight minutes. You can jiggle the basket during the cooking process to ensure that each roll is cooked equally.
Step 4: Enjoy your meal
Your air-fried pizza rolls are ready! Time to enjoy!
You can serve your pizza rolls with dipping sauce, tomato sauce, or BBQ. A decent alternative is sour cream. Some people even top the dish with grated cheese. So, you are free to add the toppings you like. Who knows, it might be a good match!
Air Fryer Pizza Rolls FAQs
Are Pizza Rolls Vegan?
Traditional pizza rolls have meat as the main ingredient. Nowadays, there are many manufacturers that have created different versions of them such as organic, non-GMO, and vegan.
Are pizza rolls good in an air fryer?
The pizza rolls are designed to be quickly cooked in the oven or microwave, But the air fryer helps you cook pizza rolls and frozen to become a crispy snack just like when you use the oven.
How long do you cook pizza rolls in an air fryer at 400 degrees F?
At 400°F, the total time you're air frying pizza rolls is 4-5 minutes, shake the basket after 2-3 minutes to make sure both sides are cooked.
How long do you cook frozen pizza rolls?
For frozen pizza rolls, you may need up to 8 – 10 minutes at 350 – 400°F to cook them.
Conclusion
Totino's Pizza Rolls are simple to cook but amazing to eat. Their convenience is a great plus.
We have just told you all the recipes, ingredients, and how to serve them best. So what are you waiting for? Let's grab your apron and show us your skills!