WOW, Valentine Day is in the air! A romantic and cozy and elegant dinner for two, why not? This year, you can skip the restaurant scene and plan for a safe meal in your very own kitchen! Well, I do have some pretty great news for any air fryer enthusiasts because making your simple healthy V-Day meal in the air fryer is not only possible, but it can create exceptionally impressive spread for your beloved ones.
Sometimes, making an extra effort with a romantic gesture will also l show your partner just how much you care, so break out the candles and prepare dinner and dessert for the one you love this year with helpful kitchen gadgets!
From a restaurant-quality main course to a delicious dessert with coffee, we have your perfect date night covered!
Scallops with Lemon Herb Sauce
The lemon-herb sauce is the perfect way to bring zest to each bite. It's quick and easy yet still elegant and absolutely exploding with flavor from scallops turning succulent and tender in the air fryer.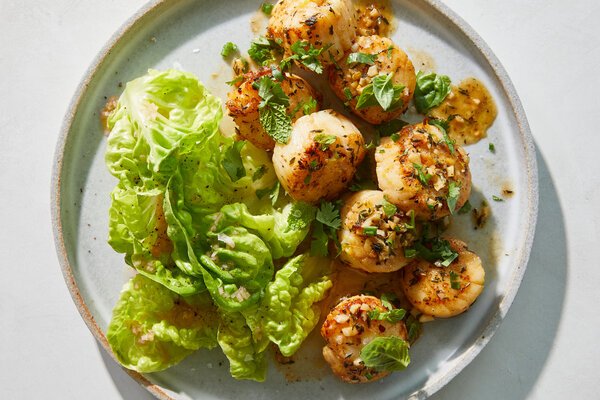 Ingredient checklist
| | |
| --- | --- |
| sea scallops, cleaned and patted very dry | 8 large (1-oz.) |
| ground pepper | ¼ teaspoon |
| Salt | ⅛ teaspoon |
| extra-virgin olive oil | ¼ cup |
| very finely chopped flat-leaf parsley | 2 tablespoons |
| capers, very finely chopped | 2 teaspoons |
| finely grated lemon zest | 1 teaspoon |
| finely chopped garlic | ½ teaspoon |
Step 1
Sprinkle scallops with pepper and salt. Coat the basket of an air fryer with cooking spray. Place scallops in the basket and coat them with cooking spray. Place the basket in the fryer. Cook the scallops at 400°F until they reach an internal temperature of 120°F, about 6 minutes.
Step 2
Combine oil, parsley, capers, lemon zest and garlic in a small bowl. Drizzle over the scallops. Serve with lemon wedges, if desired.
Test Kitchen Tip: It is undeniable that the sauce is the soul of this delicacy. Finish the cooked scallops with a zesty sauce that's filled with fresh flavors like lemon, garlic, capers, and parsley. Be sure to cook the scallops to temperature. They may not brown in the fryer, so don't wait for a golden crust to tell you they're ready.
Now here's a beautifully balanced pair. The saucy and sophisticated easy dinner recipe for two is ready in just 30 minutes.
Crispy Almond Fish with Potato Crisps
Ingredient checklist
| | |
| --- | --- |
| Garlic salt | ⅛ teaspoon |
| all-purpose flour | 2 teaspoon |
| fat-free milk | 1 tablespoon |
| fine dry bread crumbs | 2 tablespoons |
| finely chopped almonds | 2 tablespoons |
| snipped fresh thyme | ½ teaspoon |
| canola oil | 1 tablespoon |
Step 1:
For 2 persons, 8 ounces fresh or frozen skinless cod fillets is enough. Sweet potato or yellow flesh potato should be cut into slices.
With frozen fish, you can Preheat to air fryer to 450°F and coat the baking sheet with cooking spray. Rinse fish under fresh water and it is a tip for you that you pat fillet with paper towels.
For potato crisps, arrange potato slices in a single layer on the prepared baking sheet. Coat potato slices with cooking spray; sprinkle with garlic salt.
Step 2:
Bake potato slices for 15 to 20 minutes, or until browned and crisp. (If any slices brown more quickly than others, remove from baking sheet and keep warm.) Meanwhile, place flour in a shallow dish. In a second shallow dish, combine egg white and milk. In a third shallow dish, combine bread crumbs, almonds, and the 1/2 teaspoon thyme. Dip fish into flour, turning to coat. Dip into egg mixture, then into crumb mixture to coat.
Step 3:
Place fish in the basket of air fryer. Drizzle with oil. Bake for 4 to 6 minutes per 1/2-inch thickness of fish or until fish flakes easily when tested with a fork. Serve fish with potato crisps. If desired, sprinkle with additional thyme.
If you want two-color potato crisps, use half of a white-flesh potato and half of a yellow-flesh potato or sweet potato. This really produces colorful dishes when paired with fantastic almond fish.
Choosing a type of wine on this occasion is not easy task. It is going to be virtually impossible to find one wine that complements both dishes. We recommend Chardonnay or Riesling to go with the scallops, or if you simply prefer white wine over red. For the filet, we recommend Cabernet Sauvignon, Pinot Noir, or Merlot. It is also necessary to decorate your table with flowers and serve your food on nicest plates.
We've rounded up our most impressive recipes that feel special but aren't incredibly complex — so you'll have plenty of time to enjoy your night together. It's time to turn on some soft music and enjoy a delicious meal together!