Putting frozen taquitos in an air fryer is the best way to cook on lazy days that can still maintain enough nutrients in the food for you and the whole family. With simple steps and no time-consuming, anyone can become a Taquitos chef at home!
Are you curious about how to do it? If yes, let's find out through the article below.
How To Cook Frozen Taquitos In an air fryer?
Taquitos (or little Tacos) are a famous traditional Mexican dish made from cornmeal or flour with a crispy crust and colorful filling. Specifically, this dish consists of a small rolled tortilla filled with chicken, beef, cheese, and vegetables.
Depending on the diners' preferences, the fillings can be combined in many different ways, creating a variety of flavors for the dish.
Little Tacos are not only delicious, but they are also very easy to make. But if you don't have much time, you can defrost frozen taquitos in Ninja air fryer. The air fryer will make your food crispy and without any extra oil, which will help you to have a healthier meal.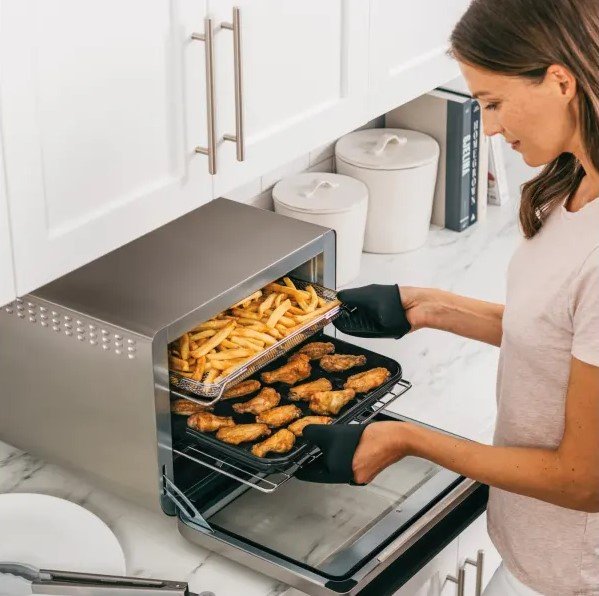 How to cook taquitos in an air fryer then? There are three very simple steps you need to do for a perfect meal:
First, take the frozen taquitos and arrange them in the basket of your air fryer. Try to set them in one layer only for the best result.
The next step is to set the air fryer to 390 degrees F for 5 minutes, reheat one side, and then continue the same way on the other side of the taquitos. Besides, how long to cook taquitos with an Ninja air fryer? It only takes you about 10 minutes before you move to the next step.
After the air fry taquitos are done, take it out carefully, and you can serve the dish with your favorite sauces. We highly recommend trying the taquitos with guacamole, cheese, salsa, and sour cream.
What about leftover taquitos that need to be reheated? With this, you need to adjust the temperature a little bit lower, about 350 degrees F, within 4 minutes for both sides.
There are many ways to cook diet foods, like using an oil pan, microwave, or instant pot to reheat food.
Even though all of these methods are simple to do, an air fryer is the most time-saver if you lack the time or are too lazy to clean up after cooking.
Air Fryer Frozen Taquitos Notes
You can have a perfect meal after following the simple steps above. However, there are things you need to keep in mind:
Notes To Cook Air Fry Frozen Taquitos
When buying frozen taquitos at the supermarket, some brands will require you to defrost the food before cooking.
If the label does not indicate you defrost it, you can put frozen taquitos directly in an air fryer without first defrosting it outside because the air fryer has a mechanism that helps the food cook from the inside out, saving you a ton of time.
Please make sure to set the right temperature and time for the taquitos to cook evenly.
When placing taquitos or frozen mini tacos in air fryer, be sure to keep them about 1-1.5cm apart to allow the heat to spread evenly between the food. Also, you should only arrange them one layer at a time for the best results.
Depending on how many people are having the meal, you can adjust the number of taquitos in air fryer as needed. Since the next cooking time will be faster than the previous one, make sure you set the appropriate air fryer temperature.
Note that each air fryer has a different size and duration. The best way is to test on the first batch of frozen taquitos air fryer to see the results and adjust accordingly for subsequent cooking.
When the air fryer is active, you can also open it up to check and change the position or shake the taquitos if necessary.
Last but not least, when removing food from the air fryer, be careful to use protective devices to avoid burning your hands.
Taquitos can be stored for up to three months. Remember that before freezing leftover taquitos, you must allow them to cool completely, then cover with food wrap and store them in the refrigerator's freezer compartment.
Conclusion
Undeniably, Taquitos are a great snack to serve the whole family. This appetizer is also very easy to make with simple steps!
With the instructions on cooking frozen taquitos in Ninja Foodi air fryer in the article above, we believe you can now prepare a delectable supper at home. Best of luck!