Frozen French bread pizza is a common and affordable dinner for many households, though it may not be the healthiest option. But with the air fryer, it is possible to prepare a healthy and delicious dish that can be cooked in a short time. 
Here is a guide on making frozen French bread pizza in air fryer.
Ingredients
Making this easy, tasty dish is just a matter of choosing your favorite frozen French bread pizza. All you need is a pack of it. You can find it in the freezer section of your local supermarket.
Here are some popular brands in the market that we love:
Stouffer's Deluxe French Bread Frozen Pizza
RED BARON Pepperoni French Bread Pizza
Sabatasso's French Bread Pepperoni Pizza
Mama Cozzi's French Bread Pizza
DiGiorno Pepperoni French Bread Pizza
Wegmans Frozen French Bread Pepperoni Pizza
Amy's Margherita Pizza
Freschetta Naturally Rising 4-Cheese Medley Pizza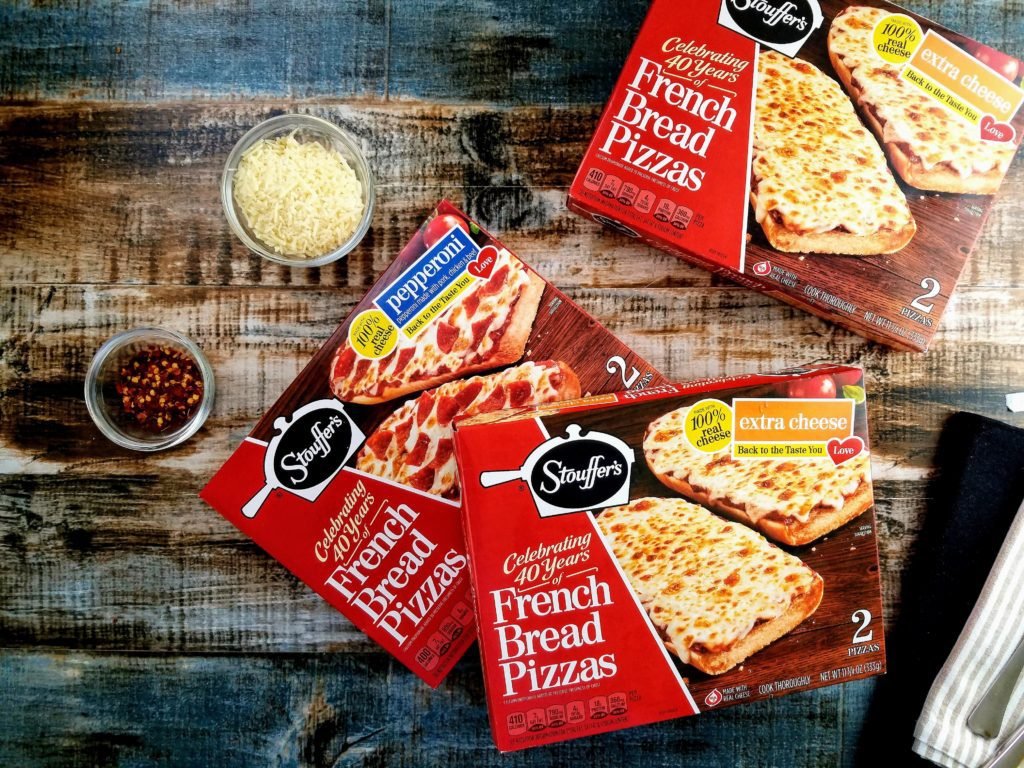 How To Cook Frozen French Bread Pizza In Air Fryer
After having all the needed ingredients, it is time to get started.
Step 1: Set The Air Fryer
You'd better set your machine at 200 degrees Celsius or 400 degrees Fahrenheit for 5 minutes to preheat.
The best way to guarantee that your frozen pizza comes out perfectly is to preheat the air fryer. Because when the air fryer is hot and ready, you will have no problem getting their pizzas in there to cook up nicely.
Step 2: Place French Bread Pizza In The Air Fryer.
Please take out the air fryer basket and put the bread into it. Use a rack to separate the pizza and place them in just one layer. You can decide to cut the pieces into smaller sizes if you like.
Step 3: Cook The Frozen French Bread Pizza
It takes about 5 minutes at 200 degrees Celsius or 400 degrees Fahrenheit.
Close the air fryer and adjust the temperature. You will want to ensure the temperature is on the mark and hot. This will ensure there is plenty of time for all the pizzas to cook through properly. If it is undercooked, the pizza most likely won't turn out right in all areas, and you will miss those crispy edges.
Step 4: Check On The French Bread Pizza.
After 5 minutes of cooking, take out the air fryer and check on the pizza. Your pizza is ready to serve if it is hot and fragrant and all the edges are crisp. And if the pizza still feels cold, the edges are still hard or sometimes soggy; then it needs about another three more minutes in the air fryer.
Step 5: Cooling and Serving!
When your French bread pizza is done, don't serve it immediately, or you may burn yourself. Let the pizza rest for a moment before removing and serving so that they don't fall apart in your hands.
Now you can enjoy your delicious pizza made by an air fryer without knowing it was frozen!
Source: Sustainable Cooks
Frozen French Bread Pizza In Your Air Fryer Tips
Although this recipe is very easy for everyone, here are some tips that can help you perfectly master your French bread pizza with an air fryer.
In the market, there are a lot of air fryer brands, and they are not all the same. Some features might not apply to your air fryer, so make sure you read your instruction manual. Do the same thing with your frozen French bread pizza box, as the recommended cook time may differ.
Use a little cooking oil spray or parchment paper to prevent the pizza from sticking onto the air fryer's basket.
Always make sure the air fryer basket isn't too packed when using it to reheat frozen bread. If it is over-stuffed, then the pizza may not cook evenly. Even worse, the machine may stop working.
Frozen French Bread Pizza Air Fryer FAQs
Can I Put A Stouffer's French Bread Pizza In Your Air Fryer?
Of course, you can put a Stouffer's French bread pizza in the air fryer! The process of cooking is the same: preheat the air fryer, place the pizza in and cook it, check on it, cool it and then serve. Do check the box of your Stouffer's to have the exact time you have to air fry it.
How Long Do You Put Red Baron French Bread Pizza In The Air Fryer?
If you are cooking a Red Baron French bread pizza with an air fryer using 400 degrees Fahrenheit, it takes about 7 to 10 minutes. If you are not quite satisfied with the results, you can always add a couple more minutes until your desired outcome is reached, and your tasty meal is crunchy and warm and delicious on the inside.
Do I Need To Defrost The Frozen French Bread Pizza Before Putting it In The Air Fryer?
If you have time, it is better to take the pizza out of the freezer and let it sit for half an hour at room temperature. But if you are in a hurry, just put it directly into the air fryer. It will only take 2 to 3 minutes longer than usual.
Conclusion
If you want a quick and easy way to feed your family a meal, this is it! We hope you enjoyed our article about making frozen French bread pizza in air fryer. So what are you waiting for? Grab some frozen bread and your air fryer, and let's get to cooking!