When it comes to the best pink air fryers, there can be a few of them on the market. They might not live up to your expectations that the device can process crispy food while bringing out a charming pink look for your kitchen.
So it can be a challenge to find a quality pink fryer. Don't let it put you off. Here, we list our five best products. Let's check it out!
This pink air fryer will strike you with how easy cooking can be with KOOC's design and features. You just go ahead and touch its screen with eight different modes, including steak, skewers, fries, chicken, shrimp, fish, cakes, and vegetables for you to choose.
Specifications
Brand: Kooc
Dimensions: 15 x 13.75 x 13.5 inches
Item Weight: 11.68 pounds
Capacity: 4.5 quarts, serving 3-4 people
Temperature range: 120 to 400°F
The astonishing point is that it cooks with complete air fry activation to get 360-degree circulation for evenly cooked dishes. Then, the food will get rid of 90% oil and calories compared to traditional methods. With KOOC, healthy food is ready to serve!
It is set with a wide range of temperatures from 120 to 400°F, combined with a time setting of 1-60 minutes. Any cooking items and recipes can be dealt with at ease. Just turn on the unit and set the time and temperature you want. This buddy will take care of the rest for you.
Pros
Gorgeous design with sleek pink color
Bonus magnetic cheat seats
Help clean with cord holder
Non-stick coated basket is safe when removed and machine-washed
Offering power cut to check the food in the middle of cooking
Cons
The timer is a little quiet in a busy house
You can see that this is the smallest unit on the list, yet it can do you a great favor with its full capacity.
The 2-quart maximum can serve perfectly and fully for 2-3 people with different recipes: chicken nuggets, roasted beef, chicken wings, crispy potatoes, and others.
Equipped with 1200 watts, you can get the quickest speed cooking for your meal but still ensure the food is crunchy on the skin while fruitful and juices inside.
Specifications
Brand: BELLA
Item Dimensions: 10.63 x 10.63 x 11.42 inches
Product Weight: 7 pounds
Capacity: 2 Quarts, serving 2-3 people
Temperature range: 175 to 400°F
It comes with only two dials to make it as easy as possible for users to use. The dials are for temperature setting ( a wide range of 175-400°F) and timer setting (auto-off after 30 minutes).
The power will automatically cut off when the timer is over, which will leave you no trouble for overcooking, or food getting burned.
Pros
Beautiful pink matte color
A frying basket is easily removed with cool-touch preventing injuries
Maximizing counter space with a small footprint
Reasonable price
Cons
It might be too small and limit the number of servings
When it comes to convenience when cooking, a gadget with a high-technology touchscreen display from Crux can be a great help.
It is easy to use and also lends a modern look to your appliance and kitchen corner. You just tap on the LED screen for all the pre-set modes and adjust the temperature ranging between 170°F and 400°F for your needs.
Specifications
Brand: Crux
Package Dimensions: 13.8 x 12.6 x 12.5 inches
Item Weight: 11.13 pounds
Capacity: 3.7 quarts, serving 2-3 people
Temperature range: 170-400°F
This unit is safe with a cool-touch handle when you need to get the food out of the basket, avoiding any unexpected accidents with heat (it can go up to 1400 watts of power).
It is also featured anti-slip feet to stay firm on the countertop. In terms of safety, PFOS, PFOA, and BPA-free certificates prove their ability to prevent further injuries. Now please let your hair down when using those devices!
Pros
High power capacity (1400 watts) for fast cooking
Healthier food using little or even no oil
2-year warranty from the manufacturer
Cons
Delivery time can take quite long
The Qinquiwd pink product is outstanding with air circulation technology, which uses a minimum fat spray for less or no oil when activating.
It will result in excluding the excess amount of fat and calories. This rapid air circulation technology is both environmentally friendly and supports fast-speed cooking with 1200 watts of power.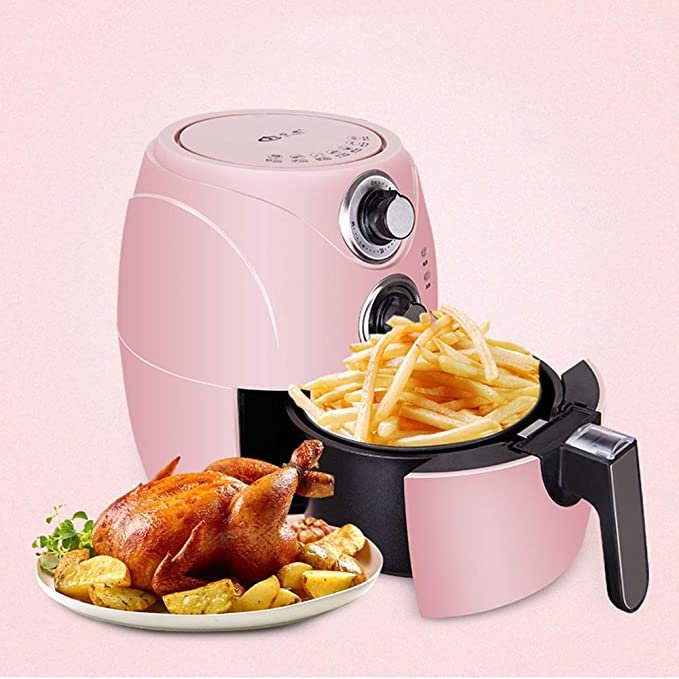 Specifications
Brand: QINQIWD
Item Weight: 8.82 pounds
Dimensions: 10x10x12 inches
Capacity: 2.7 quarts, serving 2-3 people
Temperature range: 175-400°F
It also features a removable basket called a compartment when you put on the food to cook. The pull-out drawer and basket will help with the cleaning at hand. Cleaning, after all, is no longer a nightmare for you with this gadget.
Also, you can notice a handy guide on its top, showing the ideal temperature to cook different recipes, like beef steak, chicken, chips, etc. Even a first-time cook can get a bang-up job!
Pros
Ergonomic design
Safe to use when the heat insulation isn't hot
Auto power-off when taking out the food
Cons
Hard to find the adaptors for the extension cord
When buying an air fryer, air circulation is always the key to consider. With this gadget from Gyam, the hot air function can circulate 360 degrees to oil-free frying any cooking item.
The special part about this device is it accepts wrapping, heating, and baking, despite coming at an affordable price.
Specifications
Brand: Gyam
Weight: 7.5 pounds
Dimensions: 9.8x14x12.4 inches
Capacity: 4.8 quarts, serving 3-4 people
Temperature: 170-400°F
This product is 100% insurance with safety. When pulling out the bucket, the automatic power-off system will activate, so feel free to open it anytime to look at your food.
The non-stick coating also earns it a plus point for effortless cleaning. Just a wipe with a damp cloth is good to go.
Pros
Cooling system for the rear exhaust
Non-slip foot pad
Generating 1300 high watts
Large capacity to cook for 3-4 people
Cons
The lever to adjust temperature is not as accurate as a knob.
Conclusion
Looking for a pink air fryer can be demanding, as there are a few candidates that satisfy both aesthetics and quality.
With this article, we hope that you can find yourself a trustable and gorgeous sleek pink gadget for your preference. As pink is quite a vintage and dreamy color, your appliance can breathe freshness and youth into your kitchen!