Have you ever been lost in a list of air fryer ovens after reading those Instant Vortex Pro 9-in-1 air fryer reviews on the Internet? This is understandable, as this brand comes to the market with lots of nice products that can meet any customer's needs.
If you still feel like you are walking in the dark when it comes to choosing the best product, here comes one of the Instant Vortex Pro reviews that will facilitate you in making the decision!
Scroll down to learn more!
Instant Vortex Pro 10 Quart Air Fryer
| | |
| --- | --- |
| Product | Instant Vortex Pro 10 Quart 9-in-1 air fryer oven |
| Dimensions | 13.75 x 14.37 x 13.23 inches |
| Weight | 17.53 pounds |
| Hold Up To | 4 pounds, more than 6 portions |
| Capacity | 10 quarts |
| Functionalities | 9-in-1: Air fry, bake, broil, dehydrate, roast, proof, toast, reheat and rotisserie. |
| Wattage Output | 1500 watts |
| Material | Stainless Steel |
| Warranty | One-year warranty |
Instant Vortex Pro 9-in-1 Air Fryer Reviews
Versatility
If you have a small kitchen, then go for this extremely versatile Instant Vortex Pro 9-in-1 air fryer oven. It comes to the market with nine cooking modes, including air fry, proof, broil, roast, bake, reheat, dehydrate, toast, and rotisserie.
All things in one appliance make this product more appealing to any user. You can put only this on your countertop for the long haul instead of nine other appliances.
One fantastic feature that makes you purchase it immediately is the rotisserie mode. With only one touch, you can enjoy a tender, juicy, and crispy brown roasted chicken instead of running out to the grocery store.
Capacity
The 10-quart capacity of this model undoubtedly beats others in the Instant Vortex Pro 9-in-1 reviews. Many people praise this machine for its great volume to prepare more than six portions at once.
You can even cook multiple meals in one go, in case your friends drop in, thanks to the utilization of two cooking trays simultaneously.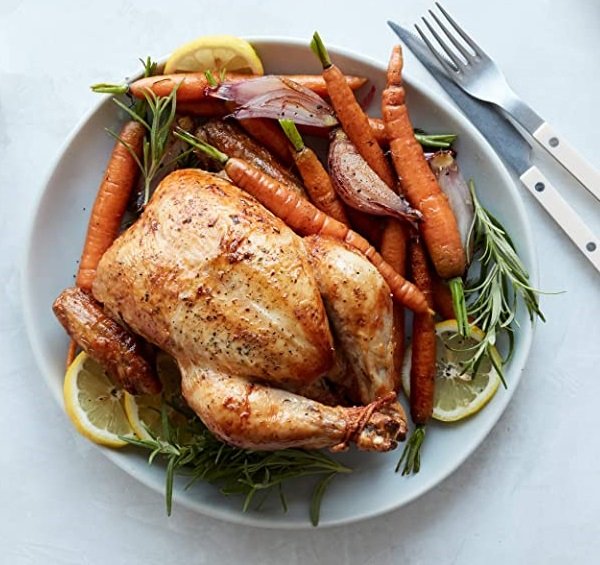 As a result, it reduces the time of operation and saves you electricity and loads of space in your refrigerator. Doing less cleaning up afterward is, of course, a part of the convenience.
Another special thing here is its similar design to a rectangular toaster oven, making it convenient and apart from others with an egg shape. So feel free to take full advantage of the available spacious cooking space.
Size
People might think of a huge, bulky Instant Vortex Pro 10 Quart Air Fryer due to its large capacity and versatility. In fact, this is a big misconception! The machine is quite compact, with dimensions of 13.75 x 14.37 x 13.23 inches and 17.53 pounds.
Although it doesn't fit those kitchens with limited space, it's truly worth a corner in your home if you tend to use it frequently.
Easy To Use
Usage seems to be a breeze for this product, even for amateurs. It features an easy-to-use and bright touchscreen so that you will not be struggling and wondering which suitable button to push.
Let's take all the guesswork out of your cooking experience from now on, as this model supports you to watch the entire progress right from the start through a glass panel. As such, you can easily know when your food is cooked evenly without any instructions.
Performance
Indeed, performance is always the main part that customers pay much attention to in any Instant Vortex Pro air fryer reviews. Rest assured that this product will not let you down!
Do you believe that the Instant Vortex Pro 9-in-1 air fryer oven can make your favorite roasted chicken and phenomenal potato fries healthier to eat? Truth be told, it totally can. This oven lets you achieve healthy meals that are tender inside and crispy outside, thanks to the One-step Even Crisp of using less than 95% oil.
It is not an exaggeration to say that this machine combines all the best features that an oven can offer. An all-in-one bakery is very helpful to proof, bake, and toasting simultaneously. Any baker will also fall in love with its three toasting levels for bagels, bread, and more.
Above all others, you don't have to wait for the warm-up time when using this Instant Vortex Pro. Just put your food in and wait for the golden-all-over finish at last! You will see how convenient it is when you are late in the dinner hour one day. No doubt, it is totally perfect for those busy families.
One more thing that you cannot neglect is its safety. It's Overheat Protection and auto-off function will never let your food burn. So, forget about the potential that you will suffer from fire while using this machine.
Easy To Clean
Cleaning is always a headache thing after you have done your cooking process. Here is good news for you: it's no longer a big deal with this smart model!
First, the stainless steel exterior design contributes greatly to cleaning up. You can get a new bright machine after a simple wipe-down.
Second, all the accessories are removable and dishwasher-safe. Just take them off, let them sit in soapy water for a few minutes, and it is done.
All the grease will be gone quickly without the need for hard scrubbing. Of course, you can put all of these parts into the dishwasher and let it do the cleaning job.
Quick Instant Vortex Pro 9-in-1 Air Fryer Run-down
Versatile enough with nine different functions for saving your space.
Easy to use and clean.
Great capacity for more cooking space.
Cooks healthy meals with less oil usage.
Additional useful accessories for rotisserie style.
Time-consuming without warm-up time.
Not really suits the limited counter space.
Too much for those tending not to use it frequently.
Conclusions
Instant Vortex Pro 9-in-1 air fryer reviews include lots of excellent products that may confuse you. That's why our article is very useful for you to determine if it is your final machine or not.
If you feel it is too much air fryer oven, let's consult some Instant air fryer reviews for a wider range of choices. Good luck!