An ideal recipe for the novice in the kitchen? It is exactly grilled cheese in the air fryer. Servings with a crisp, buttery outside and melted inner layer come to conquer hungry stomachs. All you need to prepare are a few pantry staples and a short amount of free time. 
Pros & Cons Of Grilled Cheese In The Air Fryer
The usual instructions often guide on cheese grilled in a pan, but now cooking is easier than ever with an air fryer. You do not have to stand by the stove and keep your eyes on the sandwich to check for their doneness. Also, say goodbye to tired cleaning up piles of kitchen gadgets.
With a few steps of preparation and one click on the screen, a delicious mouth-watering dish is out. The quickness and convenience are an escape from the busy days.
One downside of this recipe is the dry outer compared to traditional baking methods. In return, the crispy outer layer stimulates your taste buds before the tongue touches the soft and fatty inside.
Cheese sandwich comes in a snap to treat your hunger – Source: Wikimedia
Grilled Cheese In The Air Fryer: The Simple Yet Delicious Recipe 
Nutrition
Serving: 4
Calories: 310 kcal
Total Fat: 16g (including 9g Saturated Fat and 1g Trans Fat)
Carb: 26g
Ingredients
8 pieces of bread
12 slices of melted cheese
2 tablespoons butter
Equipment: air fryer and toothpicks
Instructions
We have made this thousands of times, and it always spoils and delights out kids. The cheese is crispy outside yet melting and gooey inside, followed by a slightly burning scent that you can find nowhere else if not with an air fryer.
Step 1
Preheat the air fryer to 320 degrees F for 3 minutes
Step 2
Butter one side of the bread and place cheese on the other side. If the cheese slice is larger than the bread, fold it in the middle to prevent it from leaking.
Place another slice of buttered bread on top. Make sure the buttered sides are exposed to direct heat.
Step 3
Pierce two pieces with toothpicks to secure them together. Place pairs one at a time in the air fryer, but do not stack them on top of each other. If your basket is too small, divide the undercooked items into batches.
Step 4
Set the temperature of the air fryer to 350 degrees F for 3-5 minutes. Once you check that the cheese has melted, flip the sandwich over and continue baking for 2-3 minutes.
The total time depends on the capacity of your equipment, the thickness, and the type of bread. You should often check to make sure that your dish is not burnt. Stop the air fryer and take the food out when the outside turns golden and crispy (or reaches your preferred texture).
Step 5
Remove the toothpicks, add a little eye-catching decoration (optional) and have a delicious meal. Better to enjoy it while it is hot!
Cooking Tips For Amazing Taste
Best Options For Ingredients 
Of course, nothing stops you from working with the staples in the fridge, but the cheese and bread are the souls of this dish. Hence, high-quality ingredients hit your taste buds straight away. Refer to some of our shopping tips to push this recipe to the next level.
Cheese
Good melting is a great priority when choosing cheese. We highly recommend classic American slices such as Cheddar, Swiss, Fontina, or Gruyere due to their great taste and quick melting.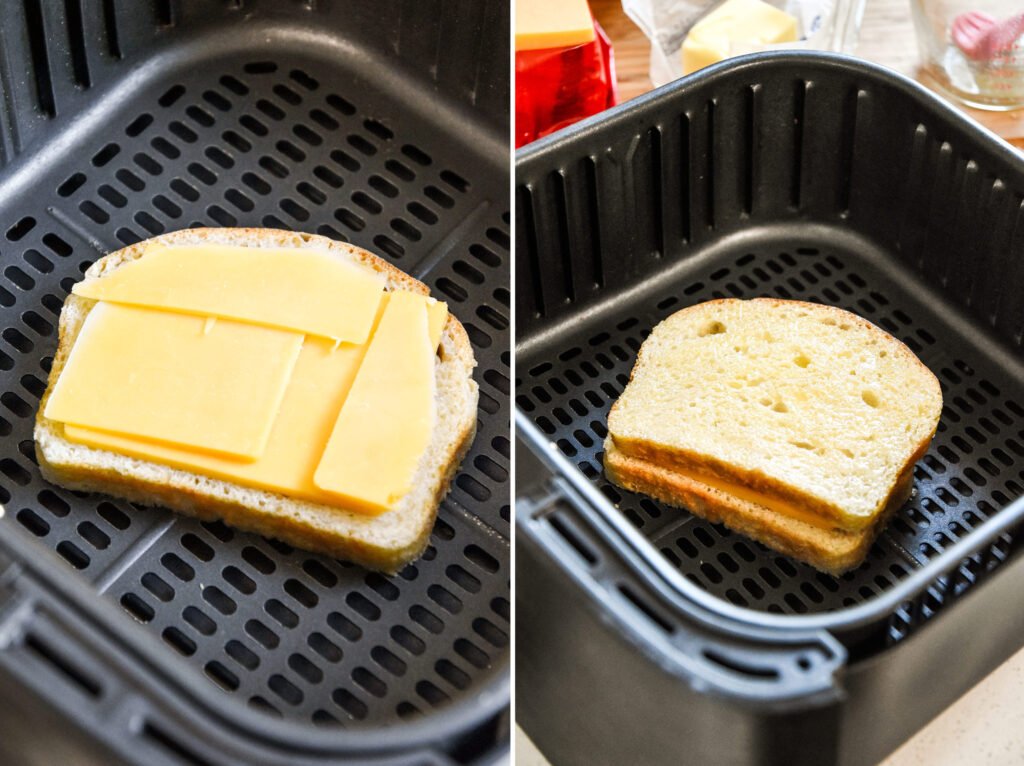 Cheddar cheese wins this recipe – Source: Project meal plan
Add Jarlsberg to your cart for a lighter version. Trust us, pair with a few Cheddar, no matter your favorite choice. Its sharp flavor blows up your mind.
If you have a large block, make sure your knife skills are good to slice cheese thin. The thicker the cheese, the longer the cooking time; unfortunately, this may burn your bread.
Bread
The white sandwiches always come out on top but seem thin for the set temperature. It is best to pick brands famous for thick slices, like Sara Artesano or Texas.
Suppose you are on a diet; substitute with Whole Wheat, Multigrain, or handmade varieties. Sourdough, Rye, or Pumpernickel add a few distinct flavors to the finished product. Note that these alternatives take longer to golden. Anyway, feel free to use any leftovers from the pantry to finish the meal in minutes.
Another tip for dieters is to switch from butter to olive oil. Though the smell of the finished product may not be as intense as the original recipe, the calories are significantly reduced.
Some Cooking Techniques To Note
Add extra butter when flipping.
Who cares about calories when the smell of toast wafts through the air? Do not hesitate to brush more butter on both sides of the bread during the short pause while flipping. 
The aroma stimulates your hungry stomach even before the sandwich comes out of the fryer. Cooking spray gets you done in a snap, but it only works with oils.
Use racks
As the pieces of bread are thin, they may "fly up" and mess up your batch. The toothpicks are sometimes not very helpful in handling this situation. To be sure, you should use racks (usually included with the air fryer) to prevent the flying saucers.
Fine-tune the settings according to your air fryer
Each air fryer performs in its way. Our instructions are for reference only in terms of installation and timing. It is best to rely on your correct manual and usage experience. Feel free to pause the equipment, check for doneness and reset the heat level if necessary.
Recipe Variations: Treat Your Stomach With More Appealing Dishes 
A big plus of this recipe is the versatility of having many other delicious dishes on your weekly menu. For instance, a twist in the included cheese created a distinct taste. 
However, you can experiment with other ingredients to discover an explosion of flavors. Here are some suggestions based on our experience.
Meat: try bacon or shredded chicken for a premium sandwich. These options provide extra energy for your long day.
Fruit: slices of pear or apple contribute to the overall sweetness. The tip of your tongue will feel the cool water, reducing the heat of the toast that has just come out of the oven.
Mayo: Double fat for a mouthful treat.
Tomatoes, bell peppers, or pickles are a good balance between essential nutrient groups. They turn your dish into a visual feast with a variety of colors from vegetables.
Serving grilled cheese with fruit to reduce fat – Source: StockSnap
Conclusion 
Grilled cheese in the air fryer is a game-changer for busy bees. This recipe does not take long to prepare and cook but still serves as a delicious dish to recharge before work or after a tiring day. Try these sandwiches for a movie date at home or your kid's picnic. This classic dish will never let you down.
Latest posts by Kitchen Master
(see all)