Welcome to the battle of Cuisinart TOA-28 vs TOA-60 – the two formidable contenders in the toaster oven market.
A toaster oven is an indispensable item in the modern kitchen. If you need to warm up your breakfast bread or want to bake some meat and fish dishes, a toaster oven is a perfect choice. Owning it will make snacks and dinners no longer a problem.
The Cuisinart TOA-28 and Cuisinart TOA-60 are air fryer ovens favored by many housewives. Its convenient design is a great choice for small and medium-sized households.
Pizzas, bread, bagels, and roast chicken can be cooked in just these compact ovens. If you're wondering which one to choose, we're here to help. Below are the differences between the two. Let's discover.
Cuisinart TOA 28 vs TOA 60 Comparison Table
| | | |
| --- | --- | --- |
| | Cuisinart TOA-28 | Cuisinart TOA-60 |
| Dimensions | 15.5 x 11.5 x 12.5 inches | 16 x 15.5 x 14 inches |
| Weight | 17.64 Pounds | 21 lbs |
| Power | 1500 watt | 1800 watt |
| Interior | 0.3 Cubic Foot | 0.6 Cubic Foot |
| Functions | Convection Broil, Convection bake, Toast, Toast, Warm, and Bagel | AirFry, Convection Bake, Convection Broil, Bake, Broil, Warm, Toast |
| Temperature | Up to 450°F | Up to 450°F |
| Capacity | Toast 4 slices of bread, air fry 2.5 pounds of wings, bake a 3-pound chicken and bake an 8-inch pizza | Toast 6 slices of bread, air fry 3 pounds of chicken wings, roast a 4-pound chicken and bake a 12-inch pizza |
| Components | Basket, Baking Pan/Drip Tray, and Wire Rack, Crumb Tray | Toaster Oven, Oven Rack, Baking Pan, Air Fryer Rack/Basket |
| Materials | Stainless steel | Stainless steel |
| Interior Light | Yes | Yes |
| Price | Check Price | Check Price |
The Difference Between Cuisinart TOA-28 vs TOA-60
Design
The Cuisinart TOA-28 is designed to be smaller and more compact than the TOA-60. The interior of Cuisinart TOA-28 is 0.3 cubic feet of space, and the outside handle measures 2 inches.
Meanwhile, the TOA-60 is designed with 0.6 cubic feet of space. Although its external construction may seem bulkier, it can accommodate larger family meals.
The inside of both are designed with glass windows, but their sizes also vary based on the size of the entire toaster oven.
In addition, the convection fan in the Cuisinart TOA-28 provides less noise, and the TOA-60 includes the interior light to help you see the condition of the dishes more clearly.
If you want to save space on the dining table or in the kitchen, the TOA-28 is the better choice.
Cooking Functions
The TOA-28 has fewer functions, cooking modes, and advanced features than the TOA-60. Both toaster ovens can air fry, convection bake, broil, warm, and toast. However, the TOA-28 owns the bagel mode, and the TOA-60 has separate bake and broil modes.
Capacity
The larger internal capacity of the TOA-60 allows for more cooking space. It can be fit to toast 6 slices of bread, roast 4 lb chicken, air fry 3 lb of chicken wings, and bake a 12-inch pizza. Alternatively, you can air-fry up to 3 lbs of any food.
Meanwhile, the TOA-28 can only air-fry up to 2.5 lbs, toasts 4 slices of bread, and bake a 3 lb chicken or an 8-inch pizza.
Thus, the TOA-60 can meet more complex recipes, contain more ingredients, and is suitable for the requirements of many family members.
It can also accommodate fairly large dishes such as roast chicken and pizza. With the timer, you can ensure your dishes are perfectly cooked.
Accessories
The TOA-28 includes a basket, baking pan or drip tray, and an oven rack. The TOA-60's accessories are more diverse, including a toaster oven, oven rack, baking pan, and air fryer rack or basket. It makes the family cooking menu richer.
Still, you should not use a dishwasher for these accessories. It's best to soak them in a soapy solution and scrub them by hand. The grease will be easily removed.
Finally, it would be best to use them under the functions they possess in the instructions. In this way, your cooking process will be faster and more convenient.
You should not touch the toaster oven outside because they are quite hot. After turning off the oven, let the accessories cool down and wash them.
Cuisinart TOA-28 vs TOA-60 Pros and Cons
TOA-28
Pros
Compact design, appropriate for small zones
Convenient with a 60-minute timer
Wide temperature range
Cons
Small capacity
Accessories are not dishwasher-safe
TOA-60
Pros
More versatile with 7 cooking functions
Quiet operation
Perfect crunchy chicken skin and fries
Wide temperature range with a 60-minute timer
Durable construction
Cons
Runs hot
Accessories are not dishwasher-safe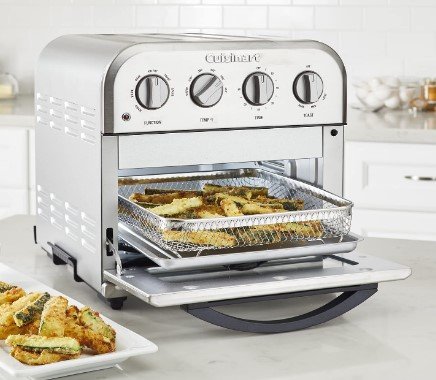 Verdict
Overall, the difference between Cuisinart TOA-60 vs TOA-28 is not much. The obvious difference that can be mentioned is the capacity of these two toaster ovens. The TOA-60 has a larger capacity so that it can accommodate larger servings.
Suppose you have many family members; you might consider the TOA-60. Its cooking methods are also more diverse than the TOA-28.
However, if you prefer simplicity and don't have many mouths to feed, then the Cuisinart TOA-28 is a better choice. Hope you found this article useful. See you in the next posts!